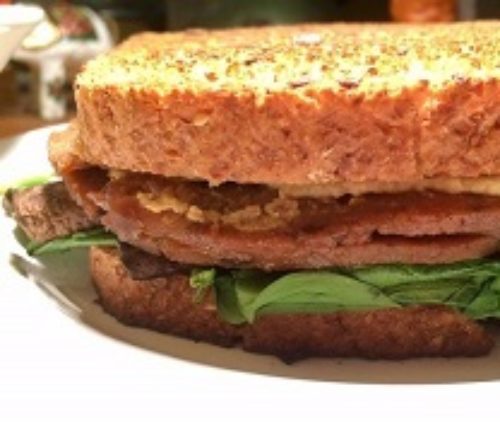 Grilled Triple Mushroom Panini
For our Cooks in the Field Grill Master, Adam Rosen, mushrooms can be described in one word as "luxurious". They are earthy, rich and perfect for the grill. Field Roast Wild Mushroom Deli Slices are made from a variety of fresh mushrooms and impart many of the same characteristics. These panini can be grilled a variety of ways: over an open fire with a cast iron grill press, on a counter-top panini press, in a skillet or in the oven if you're feeding a crowd. The hummus pairs nicely with the grilled mushrooms and Deli Slices. When you dip the panini in mushroom gravy, you truly are living in the lap of luxury.
Ingredients
2 packages Field Roast Wild Mushroom Deli Slices
2 large Portobello mushrooms
1 cup Hummus
4 oz Baby spinach
8 slices Sturdy, thinly sliced bread
2 TBS Liquid aminos, tamari or soy sauce
1 tsp Garlic powder
1 tsp Onion powder
½ tsp Cayenne pepper
1 cup Mushroom gravy, such as Field Roast Porcini Mushroom Gravy
Preparations
Stir the spices into the liquid aminios and coat the Portobello mushrooms.
Grill the mushrooms until soft, about 5 minutes per side.
Thinly slice the grilled mushrooms and set aside.
To assemble the panini, spread a heaping table spoon of hummus on each slice of bread. Layer 3-4 slices of the Field Roast Wild Mushroom Deli Slices on 4 of the slices. Cover with the sliced grilled mushrooms and a handful of spinach. Put the other slice of bread on top and press down.
Grill about 5 minutes per side over medium-low heat. Be careful not to burn! (Also, feel free to use any of the grilling methods mentioned above).
Serve alongside warm mushroom gravy for dipping.