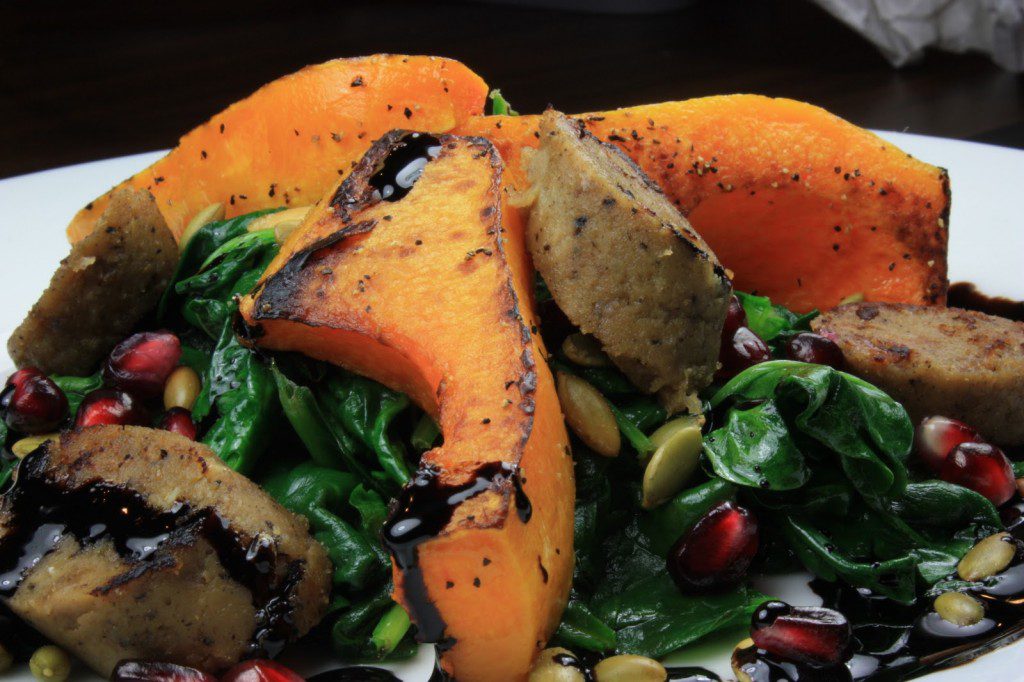 This is a warm spinach salad with Field RoastSmoked Apple Sage Sausage, roasted butternut squash, pomegranate, and toasted pumpkin seeds. So rich and comforting for a fall day.
Print Recipe
Ingredients
1 Butternut squash
4 TBS Olive oil
1/2 cup Balsamic vinegar
2 Field Roast Smoked Apple Sage Sausages
5 oz Spinach
1/4 cup Pumpkin seeds, toasted
1 Pomegranate, seeded
Directions
Preheat oven to 425°F.
Peel and cut 1 butternut squash into wedges. Place on a baking sheet and drizzle with 2 TBS olive oil, salt and pepper and roast in oven for 15-20 minutes, stirring occasionally.
In a small sauce pan over medium heat, add balsamic vinegar and reduce to a thin syrup. Slice Field Roast Smoked Apple Sage Sausages. In a skillet over medium heat, heat 1 TBS olive oil and add sausage slices. Cook sausage browning on both sides, 4-5 minutes. Remove from pan and set aside.
Add remaining 1 TBS of oil to pan. Add the spinach to the pan and stir constantly until spinach is wilted and reduced in size, 2-3 minutes.
Toss together spinach, sausage, pumpkin seeds, pomegranate, and squash. Plate and drizzle with balsamic reduction.