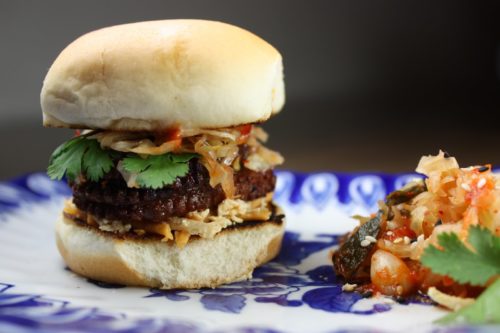 Hawaiian Field Roast Sliders
You can find them on menus at top end restaurants, happy hours, mobile food carts, and fast food joints…sliders. Those mini buns, patties, and random assortment of condiments make for the perfect 3 bites. This recipe can be used with Field Roast Quarter Loaves (shown here), FieldBurgers or Classic Meatloaf.
It's always fun to accept the challenge of "veganizing" a meal. I saw this sandwich on a food cart menu on a weekend trip to Los Angeles…SPAM, coconut mayonnaise, cheese and kimchee. With the constant new development of vegan products, what may have once been an impossible sandwich to recreate is now a cinch.
Ingredients
Coconut Mayonnaise:
½ cup Vegan mayo
2 TBS Canned coconut milk
2 TBS Vegetable oil
Field Roast Smoked Tomato or Wild Mushroom Quarter Loaf, Field Roast Meatloaf or Field Roast Hand-Formed Burger (depending on what's available to you)
Slider buns or dinner rolls sliced in half
Vegan kimchee or turnip pickles
Sweet Thai chili sauce
Sriracha sauce
Field Roast Tomato Cayenne Chao Cheese
Preparations
Mix the coconut milk and mayonnaise until smooth. Refrigerate until ready to use.
Preheat oven to 350°F.
Slice Field Roast into ¼" inch slices (or reform burgers into smaller patties). In a hot pan, heat oil and cook slider slices until browned on both sides, 2-3 minutes. Remove from pan and place on a plate lined with a paper towel. Remove excess oil from the pan and place the sliced slider buns or dinner rolls face down in the pan to toast, about 2 minutes.
On a jelly roll pan, line the buns along the pan for quick assembly. Cover both sides of the bun with a dollop of coconut mayon. Add Chao Cheese (not necessary but definitely add to the goodness that is this sandwich), one or two slices of grain meat, some kimchee, a drizzle of sriracha, and sweet Thai chili sauce. Place the top of the bun on top of the slider and place in the oven until warmed, about 3-4 minutes.