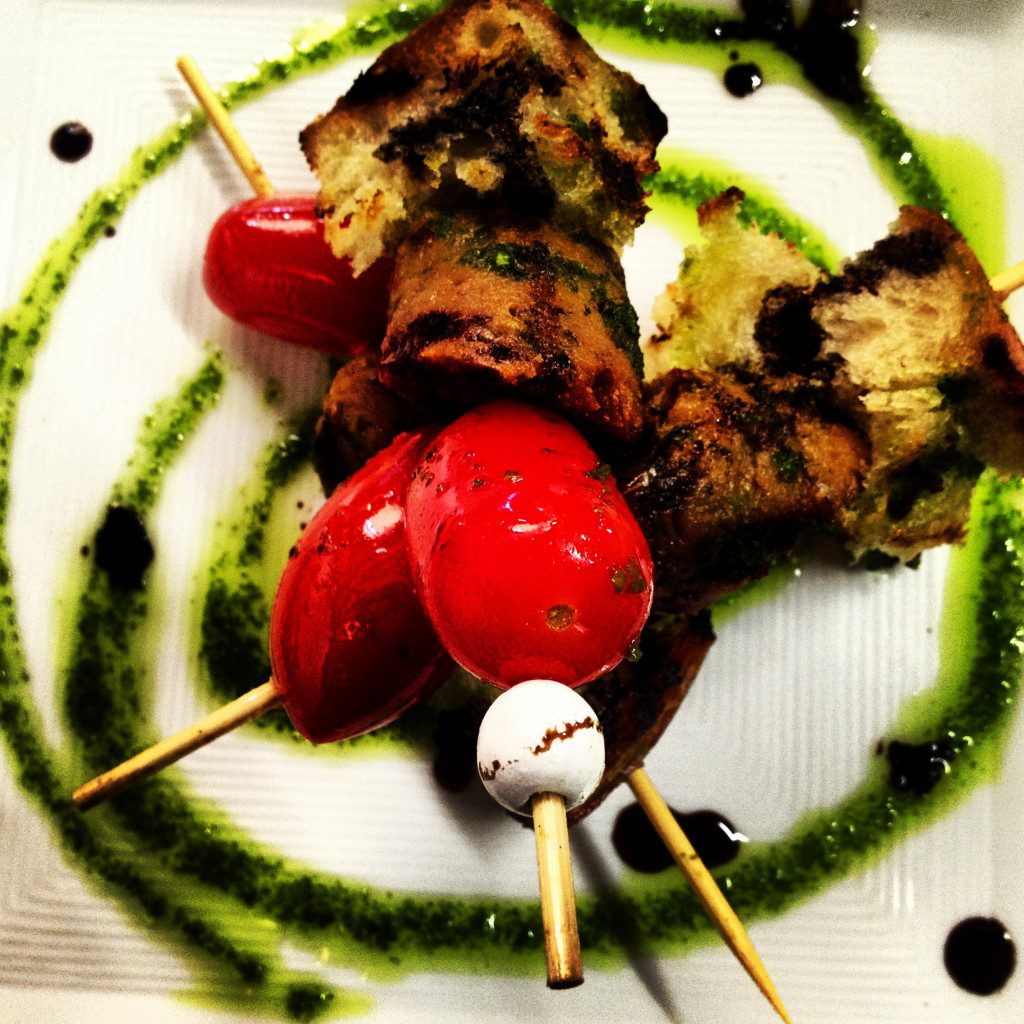 These Italian Panzanella Skewers with fresh herb oil and rosemary infused balsamic vinegar make the perfect appetizer.  Most of the prep work can be done up to two days in advance.
Print Recipe
Ingredients
1/4 loaf Artisan crusty bread
8 oz Plump cherry tomatoes
2 Field Roast Italian Sausages
1 clove Garlic, peeled
1/4 oz Fresh dill
1/4 oz fresh oregano
1/4 oz Fresh basil
1/3 cup Balsamic vinegar
1/4 oz fresh rosemary
1/3 cup Olive oil, plus more  for cooking
Directions
Place balsamic vinegar into a saucepan over low/medium heat with rosemary (on stem). Allow this to reduce to about 1/4 cup then remove from heat and strain. Monitor this over the heat, as it will start to evaporate quickly.
In a blender add remaining fresh herbs (removed from stems), garlic, and olive oil. Process until smooth and green, then set aside.
Remove Field Roast from casing and slice into 5 pieces each. This may be done on the bias, for a more elegant look.
Cube bread into 3/4-1 inch cubes.
Assemble skewers with tomato, sausage, then bread to finish.
Before grilling, drizzle a small amount of oil over the bread cube. Then grill the skewer on two sides until a small amount of char appears. Remove and plate to serve immediately.
On a clean plate drizzle a small amount of herb oil, then plate skewer, then drizzle a bit more herb oil, and balsamic vinegar.
Note: steps 1-5 may be performed ahead of time, and will keep for up to 2 days in a refrigerated covered container lined with a paper towel.