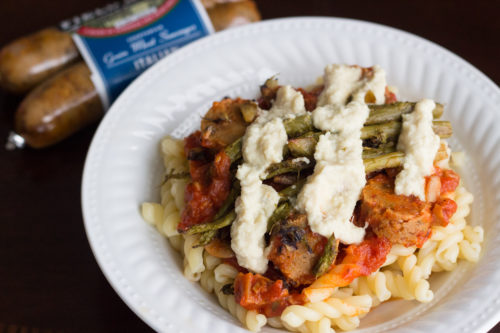 Italian Sausage Pasta with Roasted Asparagus and Mushroom Marinara
This recipe was submitted in the #CooksInTheField2015 Recipe Contest by Shannon Hickman from Parker, Colorado. Check out Another Hungry Vegan!
Ingredients
Pasta of Choice
Water
Mushroom Marinara Sauce:
3 cups marinara sauce
1/3 cup chopped mushrooms
1/2 tsp curry powder
Dash of Italian herbs
2 Field Roast Italian Sausages
2 cloves garlic
2 tsp olive oil
1 head of asparagus
salt and pepper
Cream Sauce:
1/4 cup vegetable broth
1/4 cup raw, soaked cashews
1/4 cup raw cauliflower
1 Tbs Nutritional Yeast
Garlic Powder to taste
Preparations
Begin by boiling the water for the pasta in a large pot. Heat the marinara in a saucepan on low, adding the mushrooms, curry powder, and Italian herbs.
In a separate pan, start roasting the garlic and asparagus on medium heat with the olive oil. Make sure to keep an eye on this and stir frequently so that the garlic doesn't burn. Add a pinch of salt and pepper, reduce the heat to low.
Meanwhile, make the cream sauce by blending the vegetable broth, cauliflower, cashews, nutritional yeast and garlic powder until smooth and creamy.
Once the water boils, add in the pasta and cook according to the directions on the package.
Add 2 of the Field Roast Italian Sausages to the sauce and turn up the heat slightly.
When the pasta is about done, microwave the cream sauce in a small dish for 30 seconds-1 min or until warm. Check to see if the sausages in the marinara are fully heated. If not, turn up the heat and keep stirring the sauce until finished. Drain the pasta water.
To assemble: plate the pasta, topping it with the mushroom marinara and sausages. Next add the garlic-roasted asparagus on top and finally, pour the cashew cream over it. Serve and enjoy!