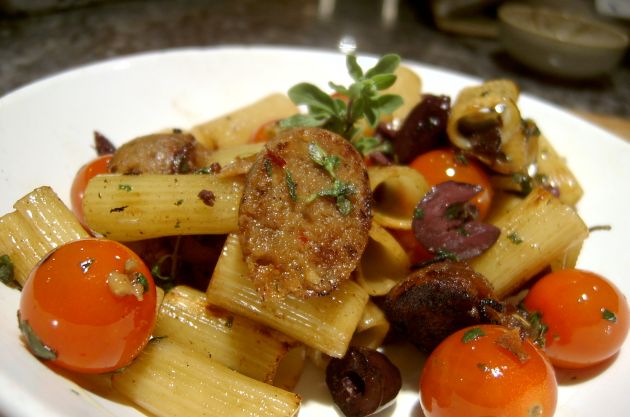 A hearty Italian Sausage with rigatoni pasta tossed with caramelized balsamic onions, sweet cherry tomatoes and Kalamata olives, garnished with fresh parsley.
Print Recipe
Ingredients
4 sliced Field Roast Italian Sausages
1 lb Rigatoni pasta, uncooked
1 Sweet yellow onion, thinly sliced
2 cloves Garlic, minced
1/4 cup Balsamic vinegar
1 pint Cherry tomatoes, halved
1 cup Kalamata olives, pitted and halved
1/2 cup Olive oil
Few sprigs Fresh parsley
Salt and pepper
Directions
Cook pasta as directed on the package, add salt when water comes to a boil.
Using a cast iron skillet or a nonstick skillet heat 1/2 of olive oil on medium high heat.
Add sliced onions, cook until they begin to turn golden. Add garlic then add balsamic vinegar and allow to reduce 5-10 minutes.
Remove onions and add remaining oil to pan. Add sausage and brown on both sides. Add onion mixture back into the pan, stirring until well coated.
Turn off heat and add remaining ingredients, toss with pasta and serve.