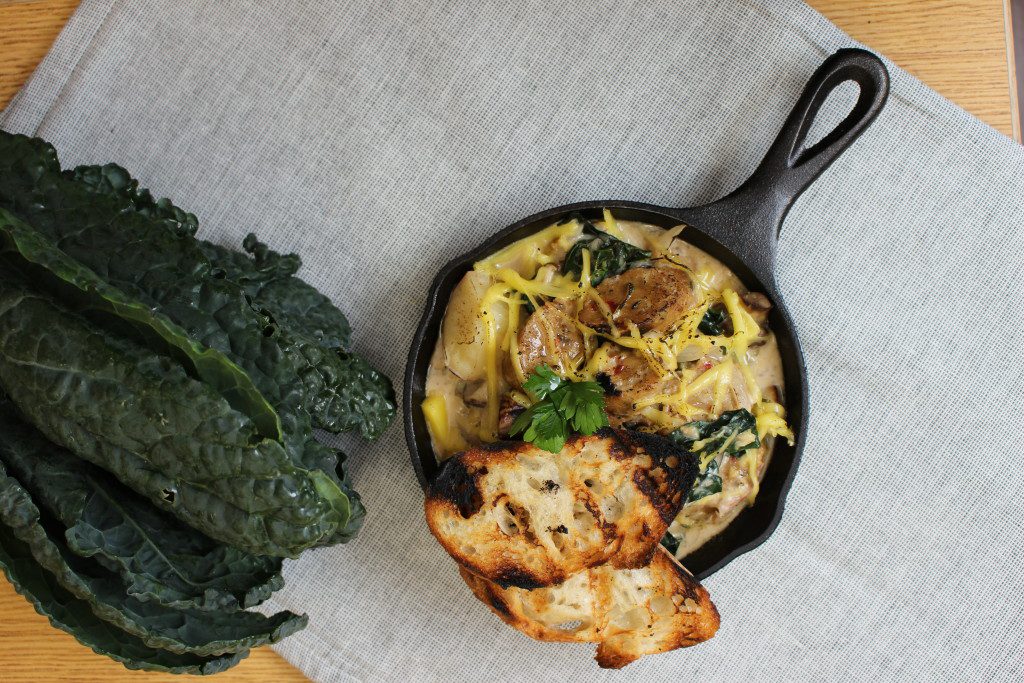 Our take on Zuppa Toscana with a hearty mix of Italian Sausage, potatoes, locally grown Lacinato Kale and Creamy Original Chao to celebrate the best of the final harvest.
Print Recipe
Ingredients
2 ea - Italian Field Roast Sausages
½ cup - Chao Cheese Creamy Original
½ cup Kite Hill Cream Cheese
4 cups - Pacific Vegetable Broth Low Sodium
4 ea - Organic Red Potatoes
1 bunch - Organic Italian Kale (Lacinato)
4 ea - Organic Rainbow Carrots
1 ea - Organic Shallots
2 clover - Organic Garlic
1 tsp - Sea Salt*
½ tsp - Organic Black Pepper*
1tsp - Red Chili Flakes*
1 sprig - Organic Fresh Thyme
¼ cup - Californian Extra Virgin Olive Oil
Directions
Set large pot over medium heat. Brown Italian Sausages in oil. Then remove from pot.
Sauté shallots, and garlic until garlic is aromatic but not browned.
Pour in the vegetable broth. Add in quartered potatoes and chopped carrots. Bring to a boil and simmer until fork tender.
Add chopped kale and cook until just soft over medium heat.
Turn off heat and fold in kite hill cream cheese with half of the Creamy Original Chao Cheese. Add rest of the spices and sliced Italian Sausage.
Plate in heat proof bowls, top with rest of cheese and broil until cheese is melted.
Serve with grilled bread and enjoy!
*while there are measurements for seasoning. Always season to taste for best result.