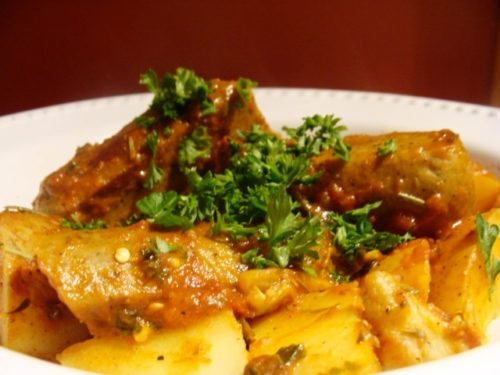 Italian Sausages, Potatoes, and Artichoke Hearts in Tomato Broth
A delicious stew for a chilly day.  A mix of our vegan Italian sausage, potatoes and artichoke hearts in a bath of tomato broth.
Ingredients
1 TBS Olive oil
4 Field Roast Italian Sausages
3 cloves Garlic, chopped
1½ lb Yukon gold potatoes (about 5), scrubbed and cut into 1 inch pieces
1/2 tsp Dried thyme
1/2 tsp Dried rosemary
1/2 tsp Dried red chili flakes
1/2 cup Dry red or white wine
1½ cup Vegetarian chicken-style broth
1 cup Crushed tomatoes
1½ cup Artichoke hearts, drained, rinsed and halved (one 14 oz. can)
1/2 tsp Salt
Black pepper
6 TBS Fresh parsley, chopped
Preparations
In a large heavy pot, heat the oil over moderately high heat. Add the sausages (cut them into 2 or three pieces each) and brown well, about 5 minutes. Remove.
Reduce the heat to moderate. Add the garlic, potatoes, red pepper flakes, rosemary and thyme. Cook, stirring occasionally, until the potatoes are lightly browned, about 5 minutes.
Add the wine and boil until reduced to approximately 4 tablespoons, 2 to 3 minutes.
Stir in the broth, tomatoes, artichoke hearts, salt, and the browned sausages. Bring to a simmer and cook, covered, until the potatoes are tender, about 30 minutes. Add freshly-ground black pepper to taste and 2 tablespoons parsley. Serve with a tablespoon of parsley over each serving.