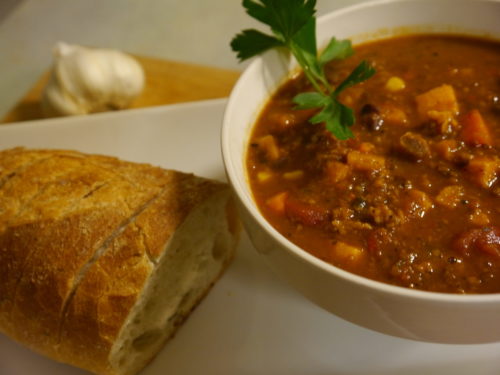 Jackson Street 5 Alarm Chili
Jackson Street's finest! This chili packs some serious heat, and is the perfect winter warmer. Kick the cold after a long day on the slopes, or supercharge your game day spread with chili dogs, nachos, or try melting in some vegan queso for a great dip.
Ingredients
4 ea Field Roast Mexican Chipotle Sausages Crumbled
1 Large Yellow Onion (Diced)
1 Carrot (Diced)
1 Red Bell Pepper (diced)
4 ea Fresh Habanero pepper
1 Fresh Pasilla pepper
2 Cups frozen corn
1 Large yam, or sweet potato (peeled and diced)
2 15oz cans black beans
1 15oz can crushed tomatoes
1 15oz can diced tomatoes
2 Cups vegetable stock
2 Tbsp Balsamic Vinegar
2 Tbsp Cumin
2 Tbsp Chili powder
6 Cloves of garlic
½ Cup Olive oil
Salt & Pepper to taste
Preparations
In stock pot over medium heat, add 2 tablsepoons oil, onion, carrot, red bell pepper, cumin, and chili powder. Allow to sweat.
Toss remaining peppers with oil, and garlic cloves, roast in a 450°F oven for 15-20 minutes, or until garlic is fully roasted. Remove from oven, and rough chop before adding to stock pot.
Add crumbled Field Roast to stock pot, and reduce to low-medium heat, stirring occasionally to prevent sticking.
Toss yams in oil, and salt, place on a sheet pan, and roast in a 450°F oven for 30 minutes or until soft.
Add black beans, tomatoes, and veggie stock to pot, and increase heat to medium. Stir occasionally, allowing soup to simmer.
Add roasted yams, and frozen corn to soup, and correct for salt.