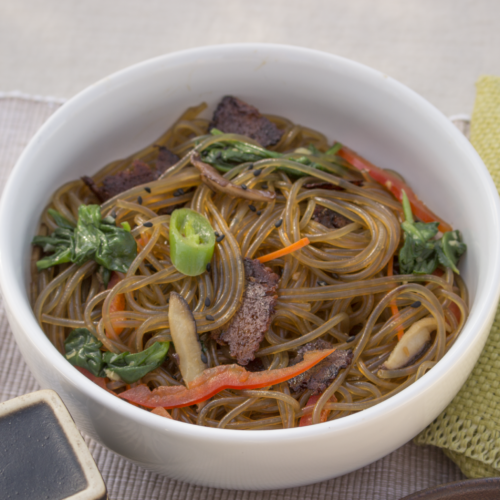 Field Roast Smoked Tomato Japchae
Japchae is a traditional Korean dish made from sweet potato glass noodles and stir-fried with vegetables. Served with a protein, flavored with soy sauce, and sweetened with sugar. It is typically garnished with sesame seeds and thinly sliced peppers. Serve hot or cold at a special occasion and mix up the vegetables to keep it seasonal. Created by Field Roast Chef Tommy McDonald for our Pasta and Noodles series.
Ingredients
3 1/2 ounces Sweet Potato Glass Noodles
8 ounces Field Roast Smoked Tomato Quarter Loaves or Deli Slices. Thinly slice Quarter Loaves or cut Deli Slices into strips
2 ounces or about 2 cups Baby Spinach
1 Serrano Pepper thinly sliced
6 Shitake Mushrooms. Stems removed and discarded, caps sliced thin
1 small sized Red Bell Pepper sliced into thin strips
1 medium sized Carrot peeled and cut into small matchsticks
1 tablespoon Ginger peeled and minced
3 cloves Garlic peeled and minced
2 teaspoons Black Sesame Seeds
2 tablespoons Soy Sauce
1 tablespoon Sesame Oil
1 tablespoon Safflower Oil
Preparations
Bring four quarts of water to a boil over high heat.
In a medium sized bowl, whisk together sesame oil, soy sauce, garlic, ginger, and half the safflower oil. Divide in half and set aside.
In another medium sized bowl add the Field Roast Smoked Tomato Quarter Loaves or Deli Slices and half the sauce mixture. Toss to coat and set aside.
Add the noodles to the boiling water. Stirring the noodles occasionally, cook for 5-7 minutes or until noodles are tender. Drain the noodles in a strainer.
When the noodles are dry, transfer to a large mixing bowl and add half the sauce mixture. Toss to coat fully and set aside.
In a skillet or wok over medium heat, heat remaining safflower oil and add mushrooms, serrano pepper, and red bell pepper. Sautee for 3 minutes, stirring occasionally. Add the spinach and Field Roast, and cook until spinach is wilted - about two minutes. Remove from heat and add to bowl with noodles. Add the carrots and toss mixture together until combined.
Garnish with sesame seeds and serve.