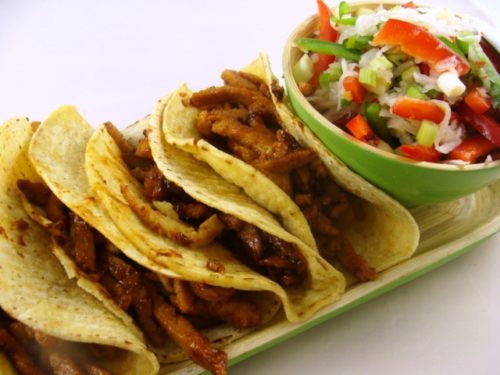 This is a vegan version of popular Korean Tacos from the Kogi BBQ food carts in the LA area. It's very fast to make, and delicious! You can make the Quick Turnip Pickle, use vegan kimchi instead, or use both. (Check the kimchi container for seafood products.)
Ingredients
3 pkgs (5.5 oz. each) julienned Field Roast Wild Mushroom Deli Slices, or Quarter Loaf
12 / 7″ Corn Tortillas
Kogi-Style BBQ Sauce:
2 tablespoons Korean fermented hot pepper paste (gochujang)
3 tablespoons organic unbleached granulated sugar, or 2 tablespoons agave nectar
2 tablespoons soy sauce
2 teaspoons Asian (roasted) sesame oil
1 teaspoon rice wine vinegar (or a little more to taste)
1/2-1 teaspoon liquid smoke
Quick Turnip Pickle:
1 medium purple and white turnip, peeled and shredded or grated
1/2 a medium red bell pepper, seeded cut into short slivers
1/2 a medium green bell pepper, seeded cut into short slivers
4 green onions, chopped
2 tablespoons rice wine vinegar or lime juice
1/2 teaspoon organic unbleached granulated sugar or agave nectar
1/2 teaspoon dried red chili pepper flakes
salt to taste
Preparations
For the BBQ Sauce, whisk the hot pepper paste, 2 tablespoons sugar or agave nectar, soy sauce, sesame oil, 1 teaspoon rice wine vinegar, and liquid smoke together until sugar has dissolved. You can make this ahead of time and store it in a covered jar the refrigerator, if you like.
To make the Quick Turnip Pickle, mix together the turnip, bell peppers, onions, 2 tablespoons rice wine vinegar or lime juice, 1/2 teaspoon sugar, and 1/2 teaspoon pepper flakes. Taste for salt. Spoon the mixture into a serving bowl, cover and refrigerate as you make the tacos.
To serve: Heat the tortillas in a steamer, or warm them in a covered casserole, wrapped in the microwave for a minute or two. Quickly distribute the filling evenly between all of the tortillas and serve with the Quick Turnip Pickle on the side (and some vegan kimchi alongside it, if you wish) for diners to add to their tacos. Don't forget the napkins!