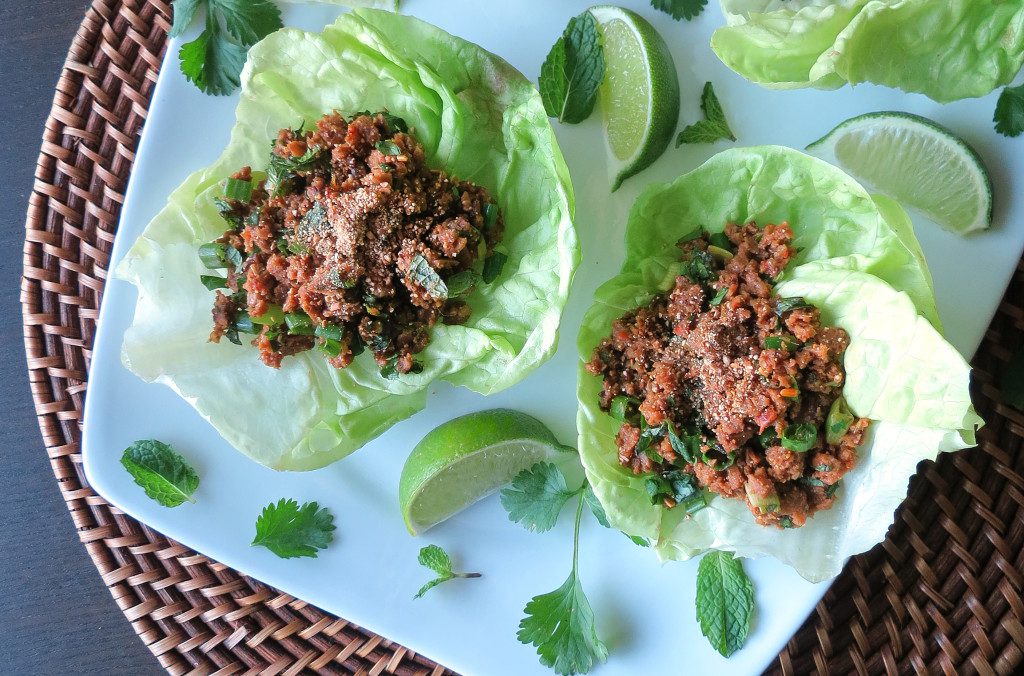 This was the winning recipe submitted by our Urban Foodie, 
Joy Martin
, for our 
Cooks in the Field 
contest.  According to Joy, although Larb is often seen in Thai restaurants, it is actually the national dish of Laos, Thailand's neighbor to the east. Her version of the minced meat salad uses Field Roast Classic Meatloaf to create a juicy ground meat filling bright with ginger, lemongrass, dried chili, and fresh herbs. Don't skimp on the to
Print Recipe
Ingredients
2 TBS Lime juice (about 1 lime)
1 TBS Low-sodium soy sauce
1 TBS Red miso
1 lb Field Roast Classic Meatloaf, roughly chopped
1/4 cup Thai sticky rice (sweet glutinous rice), uncooked
1 tsp Neutral cooking oil
1 TBS Lemongrass, minced or lemongrass paste
1 tsp Ginger, finely grated (can use a microplane)
3/4 tsp Red pepper flakes
1/4 cup Water, to deglaze the pan
1/2 cup Scallions, white and green parts divided, chopped
1/3 cup Cilantro, chopped, divided
1/3 cup Mint, chopped, divided
1 head Butter lettuce, leaves separated, washed, and dried
Directions
Whisk together lime juice, soy sauce, and miso in a small bowl until miso dissolves. Set aside. In a food processor, pulse chopped meatloaf until it has texture of ground meat, about 1 minute. Set aside.
Place a large pan over medium heat and add the uncooked rice. Cook, stirring often, until grains are deeply golden, about 10 minutes. Transfer to a plate to cool, then grind into a fine powder with a spice/coffee grinder. Set aside.
Return the large pan to medium-high heat and add oil, swirling to coat pan. Add lemongrass, ginger, and red pepper flakes and cook briefly until fragrant, about 30 seconds. Add the ground meatloaf to the pan and stir to combine with the oil and spices. Add white scallions and cook ground meatloaf for 2-4 minutes, stirring constantly, until hot and slightly browned. While cooking, deglaze the pan as needed by adding a bit of water and scraping the bottom of the pan with a wooden spoon to loosen all the "brown bits" (you want that flavor inside your larb, not stuck to the pan). When done, remove pan from heat, stir in the sauce, and transfer ground meatloaf to a bowl to cool to room temperature.
Once cool, stir in the green scallions, 1 1/2 tablespoons toasted rice powder, and 1/4 cup each of the cilantro and mint. To assemble lettuce wraps, place 1/4 cup of the ground meatloaf in each lettuce leaf, then garnish with remaining cilantro, mint, and toasted rice flour. Serve alongside freshly-made sticky rice.