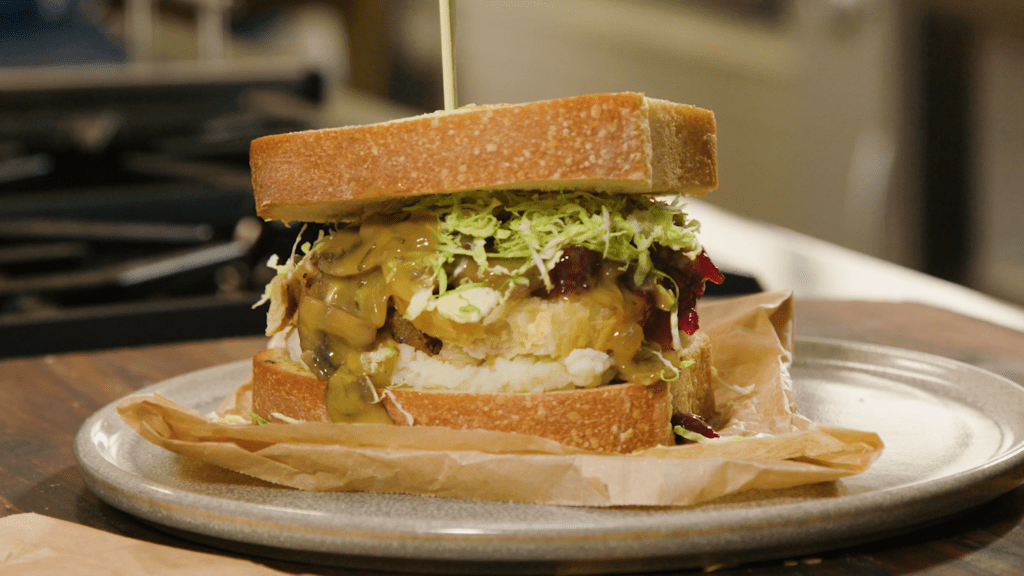 Thanksgiving leftovers are a tradition in themselves. We can't resist this leftover sandy starring our Hazelnut Cranberry Roast covered in mashed potatoes, cranberry sauce + gravy!
Print Recipe
Ingredients
3 cloves of roasted garlic, smashed into a paste
¼ cup plant-based butter
4 pieces of thick Texas-style sourdough bread
Field Roast Hazelnut Cranberry Roast prepared according to package instructions
1 cup leftover mashed potatoes from your holiday dinner
⅓ cup leftover cranberry sauce
2 cups leftover gravy
½ cup Brussels sprouts, shaved on mandolin thin
Directions
Following package instructions, prepare the Hazelnut Cranberry Roast. If serving leftovers, allow 2 slices of the roast for each sandwich and reheat in the microwave, in a steamer, or in saute pan. If using leftovers, reheat the mashed potato and gravy as well.
For the garlic bread, combine the garlic and plant-based butter together. Spread over 4 slices of thick bread.
Preheat a cast iron pan over medium heat. Place the bread, butter side down, and allow to toast for about 3 minutes. Remove from heat.
Time to assemble.
Spread half of the mashed potatoes onto two slices of the bread. Top with two, 1-inch thick pieces of the Field Roast for each sandwich, followed by cranberry sauce, a generous amount of gravy and handful of shaved Brussels sprouts. Top with the remaining bread slices and serve immediately.
The perfect holiday leftover sandwich that will be well rewarded with a nap following consumption.
Recipe © Wicked Healthy, LLC