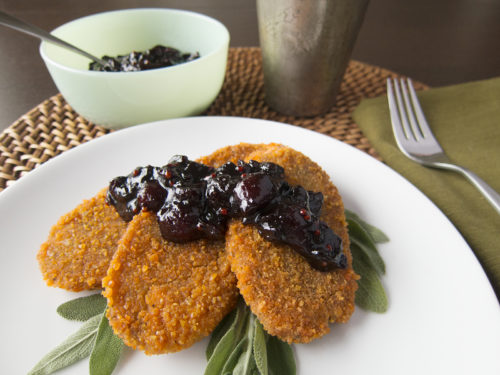 Lentil-Crusted Cutlets with Cherry-Tamarind Chutney
This modern, boldly-flavored interpretation of a breaded cutlet was inspired by my recent trip to India. Slices of Field Roast Lentil Sage Quarter Loaf are coated in an unexpected ingredient – ground red lentils – to create a savory cutlet with a crunchy, colorful crust. Top the cutlets with a homemade chutney of cherries and tamarind for a sweet-and-sour punch. -Cooks in the Field Urban Foodie Joy Martin
Ingredients
Lentil-Crusted Cutlets:
1 Field Roast Lentil Sage Quarter Loaf
1/2 cup Red lentils, uncooked
1/4 tsp Kosher salt
1/8 tsp Black pepper
1/2 cup Vegan milk
1 TBS Cornstarch
2 tsp Dijon mustard
2-3 TBS Olive oil, for pan-frying
Cherry-Tamarind Chutney:
1 tsp Oil
1/2 cup Chopped red onion
2 tsp Freshly grated ginger
1 tsp Mustard seeds
1 cup Pitted cherries, halved
2 TBS Ready-to-use tamarind paste (such as Aunt Patty's or Neera's)
2 TBS Lime juice
2 TBS Water
2-3 TBS Brown sugar (not packed), to taste
1/4 tsp Ground cinnamon
1/8 tsp Allspice
1/8 tsp Red pepper flakes
Preparations
Bread and Chill the Cutlets:
Cut the Lentil Sage Quarter Loaf into 3/8"-thick slices on a diagonal – you should end up with around 10 slices, not counting the rounded ends of the loaf (feel free to snack on those). Set slices aside. In a spice grinder, pulverize the red lentils, salt, and pepper until the texture resembles cornmeal, then transfer to bowl wide enough to fit your largest cutlet. In a second wide bowl, whisk together the milk, cornstarch, and mustard until smooth and thickened slightly.
Dip each cutlet into the milk mixture, allow excess to drip off into bowl, then transfer to bowl of ground lentils. Cover all sides of the cutlet in lentils, gently pressing to help lentils adhere, then transfer the breaded cutlet to a clean plate. Once all cutlets are breaded, place the plate of breaded cutlets into the refrigerator and chill for at least 30 minutes.
Make the Chutney:
While the cutlets are chilling, make the chutney. In a saucepan over medium heat, add the oil and onions and cook for about 2 minutes, until just beginning to soften. Add the ginger and mustard seeds and cook for an additional minute before adding remaining ingredients (cherries, tamarind paste, lime juice, water, brown sugar, and spices). Depending on the sweetness of your cherries, you might want slightly more or less sugar, so add 2 tablespoons to start, taste, and decide whether the chutney needs more – you're aiming for a balance of sweet and sour. Bring chutney to a boil, then reduce heat and simmer for 20-30 minutes, stirring occasionally, until chutney has thickened (it will resemble cranberry sauce). Immediately remove from heat and transfer to a small bowl to cool.
Cook the Cutlets:
Bring a large, heavy-bottomed skillet (cast iron is excellent for this) over medium heat and add 2 tablespoons of olive oil. Once oil is hot, add the breaded cutlets and cook undisturbed for 3-5 minutes, until bottom is golden and crisp. Flip and cook other side until golden, then remove from heat. If your pan isn't large enough to cook all the cutlets at once, cook in two batches and add additional oil as needed for the second batch. Serve immediately, topped with Cherry-Tamarind Chutney.