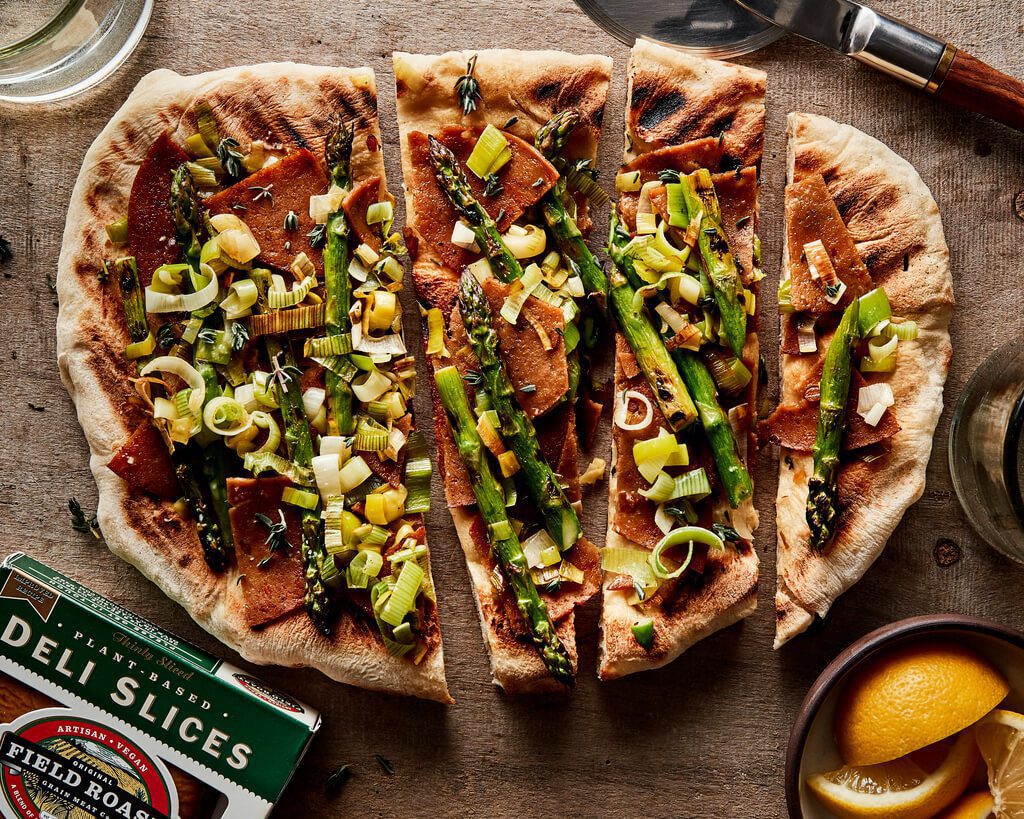 Grilled pizza is a fun way to play around with different ingredients, and this particular recipes brings bright and simple flavors together on a sunny day!
Print Recipe
Ingredients
4-6 slices Field Roast Lentil Sage Deli Slices, cut into strips
8 stalks Asparagus
1 Leek
1/2 cup White wine
1 clove Garlic
Fresh oregano
Fresh thyme
2 Tbsp Olive oil
1/2 lb ball Pizza dough
1 Lemon
Salt, to taste
Directions
Boil garlic in 2 cups water until soft, drain, and set aside.
Slice leek, and wash. In a saucepan over medium-low heat, caramelize leeks, with 1 tbsp oil. When leeks have browned, remove from heat and set aside.
In blender or food processor combine garlic, 2 sprigs each of thyme and oregano (removed from stalks), white wine, 1/2 the juice from one lemon, and salt to taste. This will be the base sauce. Using half the sauce, coat the asparagus, and lightly grill.
Roll out the dough  until it is less than a quarter inch in thickness. Place one side down on grill. After 1-2  minutes the dough will start to cook, and after 3 you should be able to flip it over without it falling apart (this may be challenging the first time as heat and BBQs vary). After you have flipped the dough, give it a minute on the other side, then pull it off the grill.
Brush the with sauce, top with Field Roast Lentil Sage Deli Slices, caramelized leeks, and asparagus, then return to heat for another 2 minutes or so. Once finished, top with fresh herbs, and a spritz of lemon juice, and enjoy!