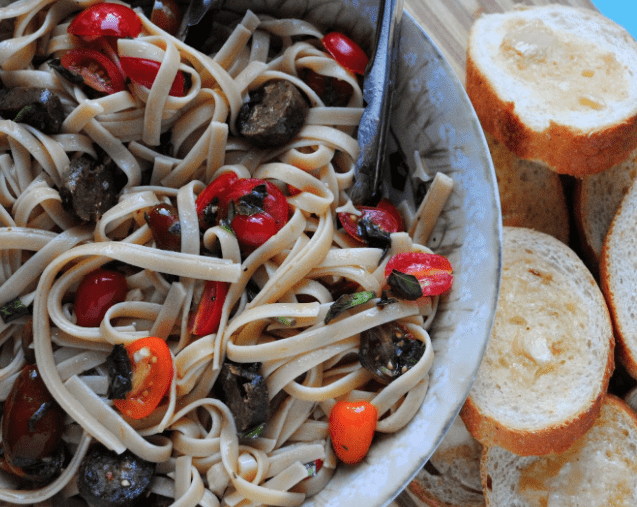 This was the winning recipe submitted by our Healthy Homemaker,
Sarah Creighton
, for our 
Cooks in the Field 
contest. This tasty pasta recipe comes together quickly and is packed with flavor. It will satisfy kids and adults alike.
Print Recipe
Ingredients
4-5 cups Cherry tomatoes, halved
4 cloves Garlic, choppped
2 large handfuls Fresh basil
2/3 cup + 1 TBS Extra virgin olive oil, divided
Sea salt
Ground black pepper
4 Field Roast Smoked Apple Sage Sausages, chopped into 1 inch chunks
1 lb Linguine
Vegan Parmesan cheese (optional)
Directions
The morning of, place tomatoes, basil, garlic and 2/3 cup olive oil in a large non-metallic bowl. Toss well and add salt and pepper. Cover with plastic wrap or lid and let sit at room temperature for at least two hours or 8 hours if you can. (The longer the better!)
The night of, bring a large pot of salted water to a boil. Add linguine and cook it al dente.
Meanwhile, heat 1 TBS oil in a medium sauté pan over medium heat. Cook the sliced Field Roast Smoked Apple Sage Sausages for 4-5 minutes per side, or until crispy and browned.
Drain the pasta and immediately add it to the marinating tomato mixture. Toss well. Add sausage, toss and serve warm.