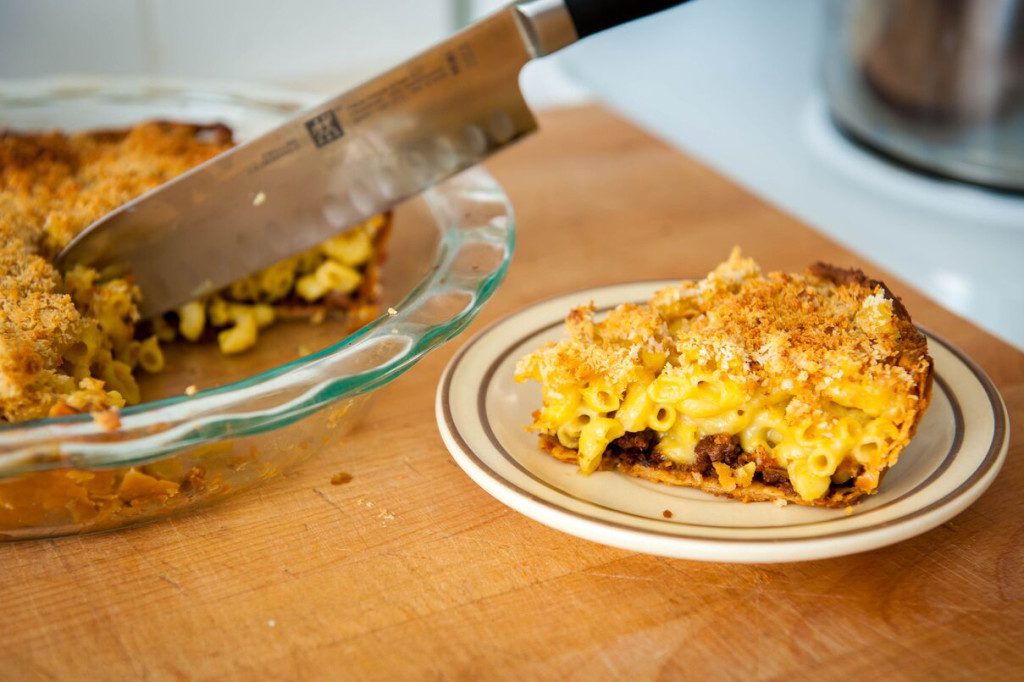 Mac n' Cheese and pie are two All-American favorites, so of course 
Chuck Pepper Jr.
combined the two to bring us this oh-so-comforting recipe. Gooey Mac 'n' Cheese inspired by a homemade cheese sauce using the Chao Slices, on a layer of crumbled FieldBurgers, baked into a crispy savory crust. You'll want more than "just a sliver" of this pie.
Print Recipe
Ingredients
1 package Creamy Original Chao Slices, shredded or finely chopped
2 Field Roast Burgers, finely chopped or ground in food processor
1 pre-made vegan pie crust
8 oz macaroni, cooked per instructions
2 tbsp vegan butter
1/2 cup almond milk
1/2 cup nutritional yeast
1 tsp salt
Panko bread crumbs
Olive oil
Directions
Preheat oven to 425 degrees.
Let the pre-made pie crust rest for about 15 minutes at room temperature. Meanwhile, cook the macaroni per the instructions on the package, drain and return to the pot to set aside. Spread the pie crust across a pie dish, making sure to push it into the corners.
Heat a tablespoon of olive oil in a small sauté pan over medium high heat. Add the crumbled Field Roast Burgers and cook until browned, about 3-5 minutes, seasoned to taste with salt. When finished, pour it over the pie crust.
Using the double boiler method, add the shredded Chao Slices, almond milk, butter, nutritional yeast and 1 teaspoon of salt to the bowl. Using a whisk, stir the cheese mixture over medium-high heat until everything is smooth.
Add the cheese mixture to the macaroni and stir in to combine (you could stop here for a more traditional mac & cheese, or keep going for the pie)! Pour the mac & cheese mixture into the pie dish over the field roast, making sure it is spread evenly.
Generously sprinkle the panko bread crumbs across the top of the macaroni, as thick as desired.
Bake for 30-40 minutes, until the bread crumbs are nicely browned. Serve with a pie cutter and enjoy!