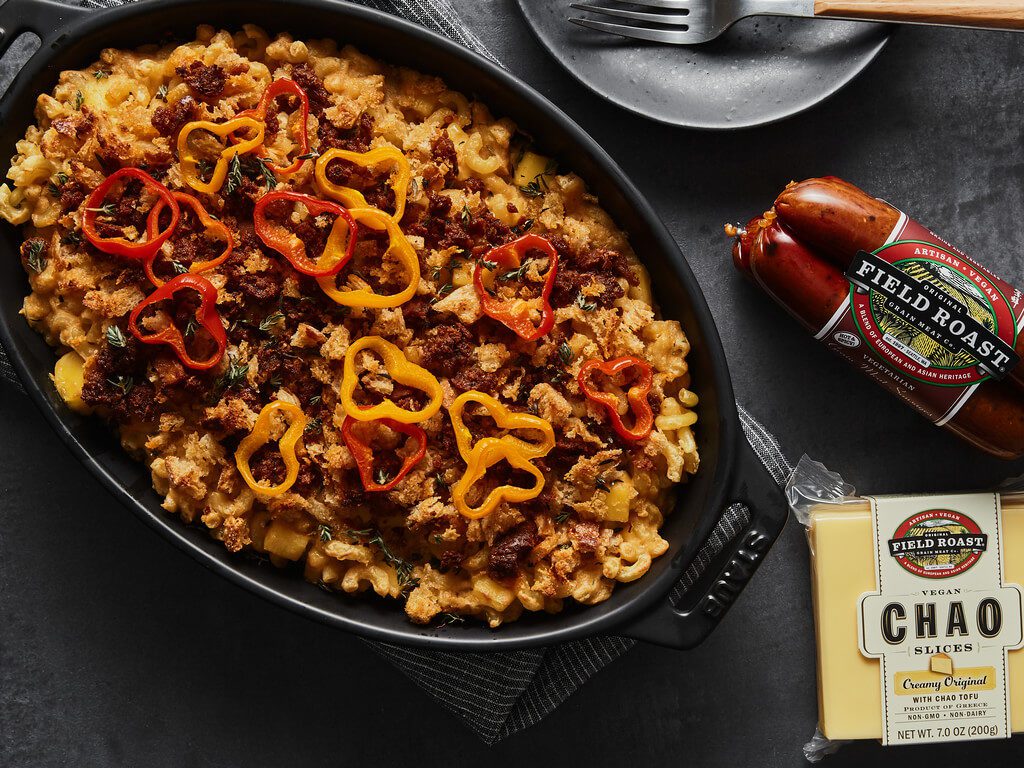 This mind-blowing Mac n' Cheese recipe was one of the first created with our Chao Slices, by our resident chef Tommy! He competed with this recipe in the 2014 Vegan Mac Showcase held by Vegan Iron Chef in Portland and it was an instant hit. Although our slices were designed with cold-cut deli and melt-style sandwiches in mind, they can be transformed into just about any melty-gooey dish. This is recipe is easy for any home cook to make and can impress your toughest foodie critic.
Print Recipe
Ingredients
For the sauce (shout-out to Wicked Healthy Food for the inspiration):
1 cup Raw cashews, soaked in water for couple hours then drained
2 1/2 cups Water
8 cloves Garlic, boiled until soft
1/2 Yellow onion, diced
1/4 cup White wine
3 TBS Nutritional yeast
1 TBS Red or white miso
1 tsp Onion powder
1 tsp Smoked paprika
1/2 tsp Nutmeg
1 tsp Mustard powder
1 tsp Dijon mustard
2 tsp Salt
For the mac:
1 lb Elbow pasta, dry
1 package Field Roast Creamy Original Chao Slices, diced
1/4 loaf Crusty sourdough bread
1 Field Roast Mexican Chipotle Sausage, crumbled
Fresh herbs such as oregano, dill and/or thyme (optional)
Roasted red and yellow peppers, sliced (optional)
Directions
For the sauce:
In a pan over medium heat, sweat the onion, adding half of the wine about midway through cooking.
Move onions to blender and add remaining ingredients. Blend until smooth.
For the mac:
Preheat oven to 400°F.
Boil pasta until tender, drain, but do not rinse.
Combine cheese sauce, Chao Slices and cooked pasta and move to a baking dish.
Tear sourdough bread into small pieces and combine with crumbled Mexican Chipotle Sausage.
Top Mac & Chao with bread/sausage mixture and drizzle with olive oil.
Bake in oven for 15-20 minutes, until sauce is bubbling and topping gets crispy.
Remove from oven and garnish with fresh herbs and sliced peppers if desired.