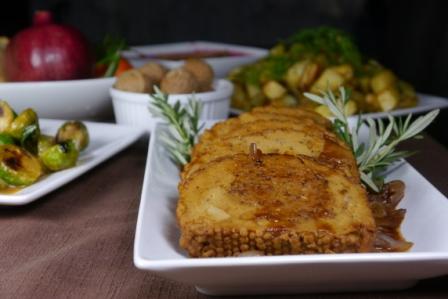 Try this simple and special main dish for the holidays or any night.
Print Recipe
Ingredients
1/2 inch slices Celebration Roast
1 Onion, peeled and sliced into 1 inch rounds
Extra virgin olive oil
Salt
Black Pepper
Balsamic vinegar
Parsley or rosemary, chopped
Directions
Cook Celebration Roast according to package.
Toss peeled onion in some of the olive oil. Add a little salt and place on sheet pan.
Roast onion in 350°F oven until browned or slightly blackened.
Place cooked & sliced Celebration Roast on a platter, interspersed with the roasted onion.
Dress with olive oil and balsamic vinegar. Sprinkle on black pepper and garnish with chopped parsley or rosemary.