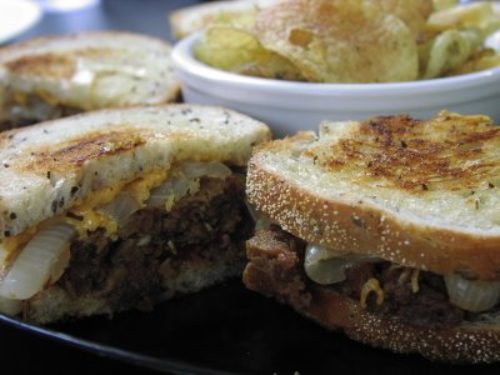 Simplicity is a Patty Melt.  At a diner in Anytown, USA you can find this sandwich…but not yet will you find one that has this much appeal.  Completely vegan, juicy, and seriously tasty.  It was easy too, thanks to our Classic Meatloaf and melty Chao Slices.
Ingredients
1/2 lb Field Roast Classic Meatloaf (1/2 loaf)
2 Field Roast Chao Slices (Creamy Original, Tomato Cayenne, or Coconut Herb)
1 Medium onion
2 TBS Vegan butter
4 slices Rye bread
Preparations
Thickly slice the onion and sauté in deep pan with vegan butter until transparent, set aside.
Slice Field Roast Meatloaf in half, then into 1/4 inch slices. Grill in a sauté pan, 1 min each side.
Spread remainder of butter on the slices of bread, and compose sandwiches in the deep pan with meatloaf, onions and Chao Cheese. Grill until melted. You can also put them under the broiler for a minute or make a panini style sammie. Serious business. Serve with tater chips.