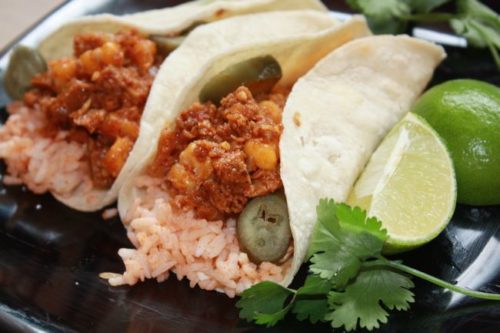 Mexican Chipotle Taco Meat
Serve this delicious taco grain meat with corn tortillas, rice, pico de gallo, chopped cilantro, and whatever else makes you happy. Dine in the best of good health.
Ingredients
1 lb Field Roast Mexican Chipotle Sausage
1 Yellow onion, medium diced
1 TBS Garlic, minced
¼ cup Vegetable oil
12 oz can Yellow hominy
1 cup Vegetable stock, liquid from hominy or water
2 TBS Cider vinegar
¼ tsp Salt
Preparations
Add 2 TBS oil to sauté pan. Sauté onions until transparent. Add garlic, lightly cook and remove all from pan.
Quarter sausage lengthwise then dice finely.
Heat pan, add 2 TBS oil when hot add sausage. Sauté until hot, soft and lightly brown. Add onions, garlic, hominy and heat. Add liquid, vinegar and salt. Bring to a simmer and cook for 10 minutes.
Use in tacos or burritos.