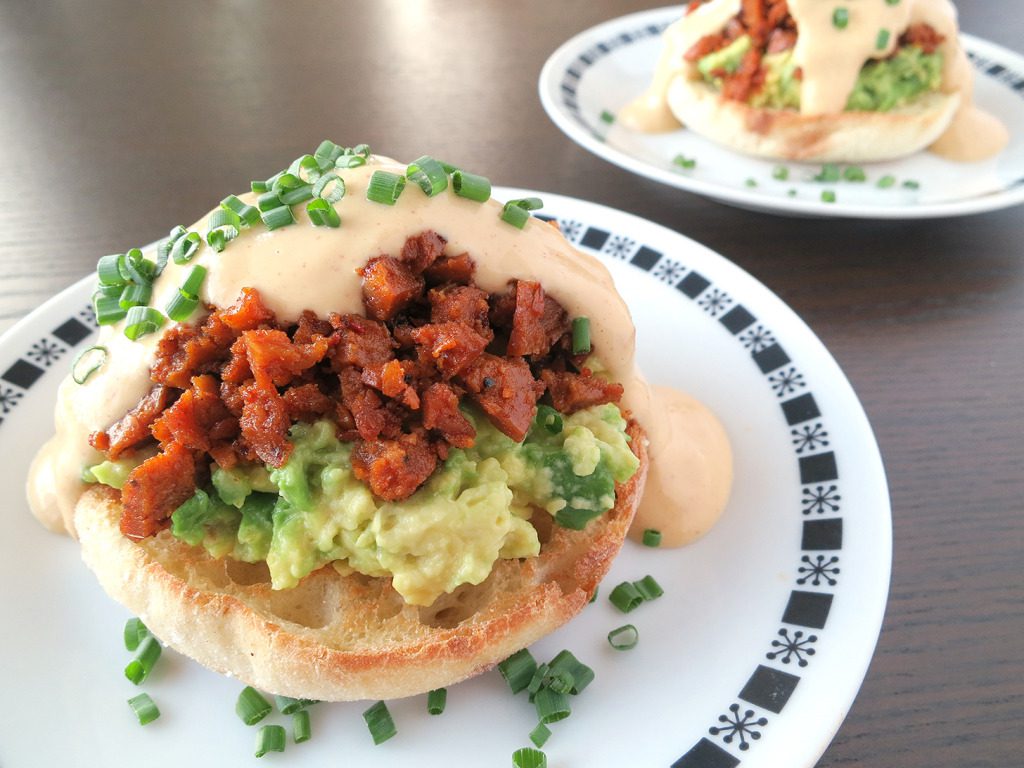 Migas Benedictas are a playful vegan take on classic Eggs Benedict featuring the flavors of a lesser-known breakfast dish, Spanish
Migas
. Toasted English Muffins are topped with mashed avocado (a simple stand-in for delicate poached eggs), spicy Field Roast Mexican Chipotle Sausage, and a silky Hollandaise-style sauce. Impressive enough for a special occasion brunch but simple enough for a lazy weekend morning, Migas Benedictas are bound to become a breakfast favorite. - 
Joy Martin
, Field Roast 
Cooks in the Field
 Urban Foodie
Print Recipe
Ingredients
Migas Benedictas:
1 tsp Olive oil
2 Field Roast Mexican Chipotle Sausages, crumbled or chopped into pea-size bits
2 Medium avocados
Squirt of lemon juice
4 Vegan English muffins, split
¾ cup "Hollandaise de Migas" Sauce (recipe below)
¼ cup Chopped chives

"Hollandaise de Migas" Sauce:
Makes ¾ cup
1/2 cup Mashed silken tofu
2 TBS Olive oil
1 TBS Sherry vinegar
1 TBS Nutritional yeast
1/4 tsp Salt
1/4 tsp Paprika
1/8 tsp Onion powder
1/8 tsp Garlic powder
Pinch of cayenne
Directions
Bring a skillet over medium heat, add oil, and sauté chopped sausages for 2-3 minutes, until lightly golden and heated through. Remove from heat and cover to keep warm. Next, halve the avocados, remove the pit, and scoop out the flesh into a small bowl. Add a bit of lemon juice and gently mash avocado mixture with a fork; set aside. Toast English Muffins until golden brown.
While muffins are toasting, make the Hollandaise de Migas sauce. Place the mashed tofu in a small microwave-safe bowl and microwave, covered, for 30-60 seconds, until hot. Add hot tofu to a blender along with the remaining sauce ingredients (oil, vinegar, nutritional yeast, salt, and spices). Puree until completely smooth, scraping down sides occasionally. Transfer to a small bowl and immediately begin assembling the Migas Benedictas.
For each serving, place 2 halves of an English Muffin on a plate. Top each muffin half with a generous spoonful of mashed avocado, then top the avocado with a layer of Mexican Chipotle sausage crumbles. Spoon warm Hollandaise de Migas sauce over the sausage crumbles and finish with a sprinkle of chopped chives. Serve immediately.