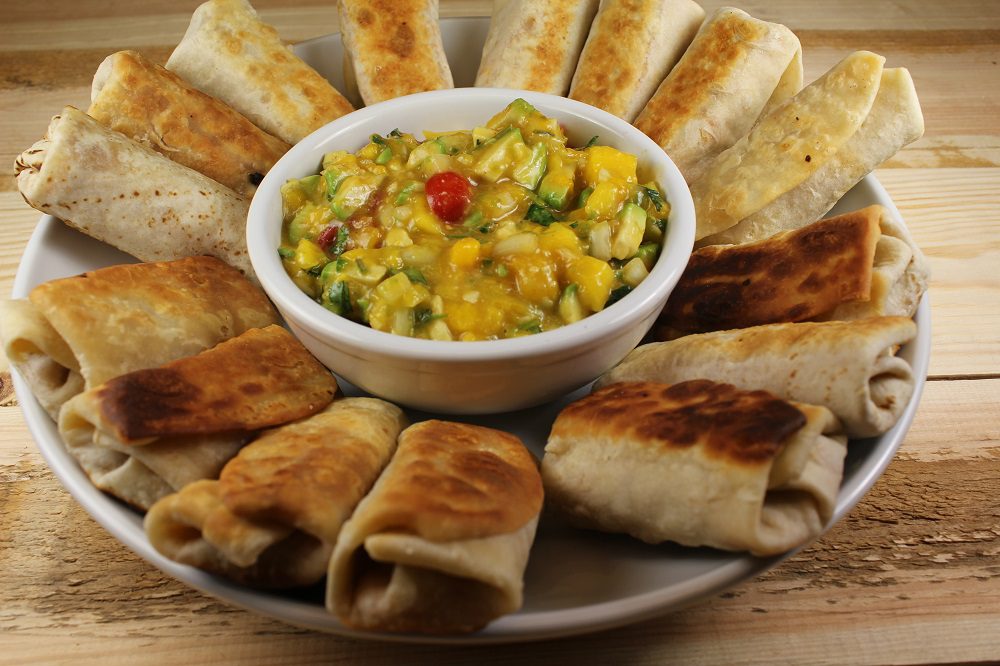 These palm-sized burritos have a spicy kick and make for a tasty football fan-pleasing appetizer. They won't disappoint guests at any party to watch the Big Game.
Print Recipe
Ingredients
4 Field Roast Mexican Chipotle Sausages, crumbled
1 Yellow onion, diced
1 Large Yam or sweet potato, peeled and 1/4 inch diced
2 TBS Olive oil
2 cloves Garlic, minced
10 8-inch Flour tortillas
1 TBS Safflower oil
Your favorite prepared fruit salsa or guacamole, for serving
Directions
Preheat oven to 425°F.
Toss diced yam/sweet potato in a little olive oil to coat and roast for 15-20 minutes.
In a skillet over medium heat, add Field Roast Mexican Chipotle Sausage, onion, garlic, and remaining olive oil. Sauté for about 10 minutes or until onions become translucent.
Remove from heat and add diced yam/sweet potato.
To easily roll burritos, microwave tortillas for 20 seconds. Place a quarter cup of filling in the center of each tortilla and roll.
In a skillet over medium heat, add safflower oil and brown all sides of rolled burritos.
Serve with fruit salsa or guacamole.