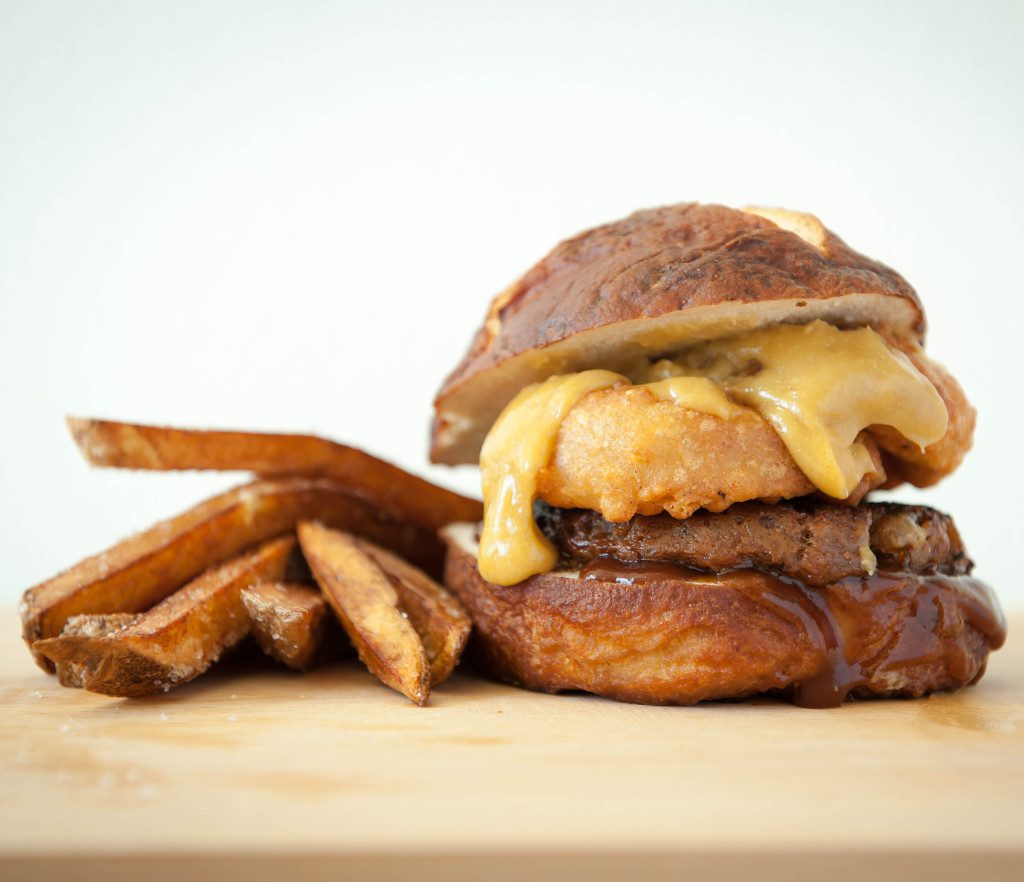 4 Recipes in 1? This FieldBurger is topped with homemade beer-battered onions rings and creamy beer cheese sauce on a homemade pretzel bun.
Chuck Pepper Jr.
created this monster of a burger so you can savor every last bite. If you're short on time, you can use pre-made pretzel buns or make them ahead, but don't skip the beer cheese sauce!
Print Recipe
Ingredients
4 FieldBurgers
BBQ sauce, as desired
Creamy Beer Cheese Sauce:
1 package Creamy Original Chao Slices
2 tbsp Cornstarch
8 oz Beer (Pilsner used here)
4 oz Soy creamer
1 tbsp Dijon mustard
1 tsp Vegan Worcestershire sauce
1/4 cup Nutritional yeast
Pretzel Buns:
1 cup Almond milk
2 tbsp Vegan butter
1 packet Yeast
2 tbsp Brown sugar
3 cups All purpose flour
2 tsp Salt
3 quarts Water
3/4 cup Baking soda
Olive oil, for brushing
Beer Battered Onion Rings:
1 Large yellow onion
1 cup Flour
1 tsp Garlic powder
1/4 tsp Red cayenne pepper
3 tbsp Nutritional yeast
1/2 cup Panko breadcrumbs
2 tsp Salt
1/2 cup Ceer (Pilsner used here)
3/4 cup Almond milk
Deep fryer with veggie oil or deep pan with veggie oil (6-8 cups)
Directions
Suggested method: The pretzel buns can be made ahead of time. Then start with the beer cheese sauce. While that is melting, work on the onion rings and burgers. 
Creamy Beer Cheese Sauce:
Pour your beer, Dijon, Worcestershire and soy creamer into a small sauce pan and heat it until it's simmering, stirring occasionally.
While that heats open your Chao Cheese and shred it using a cheese grader into a large bowl.  Work slowly to shred it as it helps the slices stay together.  When you can't shred anymore throw it on the cutting board and chop it into smallish pieces (you just want as much shredded as you can to help it melt).
When your cheese is shredded, add the corn starch to it and toss to coat the cheese.  Add the corn starch coated cheese to your sauce pan and stir frequently until the cheese has melted into the beer/milk mixture.  The liquid will cook off some and the sauce will thicken.  When its at a consistency you like, spoon it onto your burgers!
Pretzel Buns:
Heat almond milk and butter in a small pot on stove until warm.  In a large mixing bowl combine yeast and brown sugar.  Pour the milk and butter into the bowl and mix.  Add 2 1/2 cups of flour to mixture along with the salt and stir to combine.  As it thicken and starts to become a dough transfer to a surface sprinkled with the other half cup of flour.  Knead the dough until it is elastic, about 5-8 minutes.  Spray another large mixing bowl with cooking spray.  Transfer your ball of dough to the bowl and roll it around to coat it.  Cover the bowl and let it rest for an hour until the dough rises.
After the dough has risen, heat your oven to 400 degrees.  Add the water and baking soda to a large pot and bring it to a boil.
Divide your dough into 4 parts and form into small balls.  When the water is at a boil, add the dough balls to the water and let boil for a bout two minutes.
Grease a cooking sheet with more of the veggie cooking spray and place your dough on the sheet.  Brush with the olive oil and using a knife cut make slits crosswise on the top of the buns.
Place your cooking sheet into the oven and cook for 15 minutes.  When your timer goes off lower the heat to 350 and cook for another 10 minutes.  Remove your buns from the oven and transfer to a cooling rack to…cool.
Beer Battered Onion Rings:
Cut the ends of your onions, remove the skin and slice the onions into 1/2 inch slices.  Take the bigger rings from the outside and use those, the smaller rings can be saved for something else.  Pour  the flour in a large bowl and dredge the onions in the flour and set aside.  Mix in the bowl with the flour the rest of your dry ingredients.
Get your deep fryer or oil up to about 350 degrees.  When your oil is hot and ready to go mix the beer and almond milk in the dry ingredients.  Take your floured onions and dip them in the wet mix coating well then transfer them into the oil.  Work in batches not putting too many of the onion rings in the oil an make sure your oil is hot in between each batch.
Each batch needs to cook for about 5 minutes.  When they are golden brown transfer them from the oil to a plate with a paper towel on it to let some of the oil soak into the paper towels.  Repeat until you have at least 2 onion rings for each burger you're making, or until you run out of onions to just eat!
Work quickly as the panko will soak in some of the liquids, if your batter starts to get too thick towards the end just add a little more beer and mix it before dipping your onion rings.
Time to assemble the burgers! Slice your pretzel roll in half and slather some BBQ sauce on the bottom half of the bun.  Stack one of the burger patties on the half with BBQ sauce, add two onion rings on top of that, a big dollop of the beer cheese sauce and the other half of the bun on top.  Be careful, it's a mouthful!