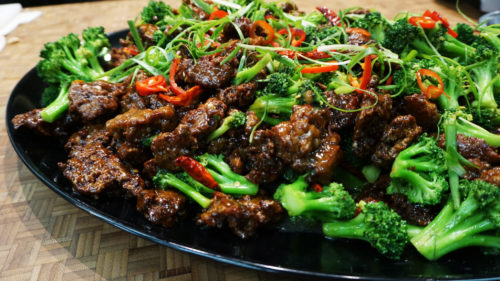 Orange Szechuan Field Roast
This is a fun recipe that invokes a favorite Chinese food dish, with crisped Field Roast and a sweet orange sauce. Make this recipe kid-friendly by skipping the peppers!
Ingredients
8 FieldBurgers, broken into chunks
2 crowns Broccoli, cut into florets
1 Yellow onion, roughly chopped
1 bunch Green onions, sliced
3 cloves Garlic, thinly sliced
Handful (about 2 dozen) Small dried chilies
¾ cup Orange jam or marmalade
½ cup Rice vinegar
¼ cup Tamari
1/2 cup Cornstarch
2 TBS Safflower oil
Preparations
In a saucepan, whisk together orange jam, vinegar, garlic, and tamari over medium-low heat. Once combined, reduce heat to low and let simmer.
Toss Field Roast Burger chunks in cornstarch, thoroughly coating. Deep fry meatloaf using a deep fryer or large heavy bottomed pot, at 375°F for 3-4 minutes. Remove from fryer and add to orange sauce. Toss to coat.
In a skillet on medium-high heat, add oil and onions, allowing onions to almost sweat, before adding the broccoli and the chilies. Once you have added the broccoli, place a lid on top, allowing the broccoli to steam for 2-3 minutes.
Add meatloaf to vegetable mixture and serve, garnishing with extra green onions.