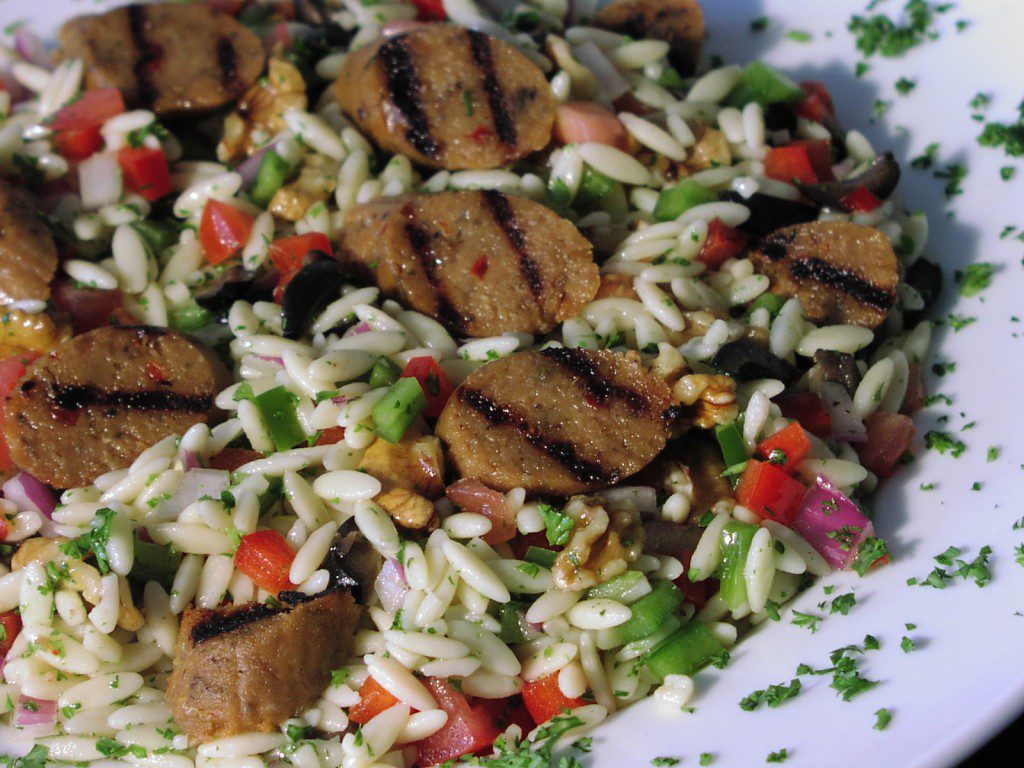 This recipe is pretty versatile…because you can adjust the ingredients to your taste, or what you have on hand! It is always a favorite side, but the meaty goodness of our sausages can easily make this side a meal.  You can really add whatever you want for veggies or have on hand. Olives, capers, roasted red peppers, carrots all would be great additions. To make it even more of a meal 1 cup of cooked wild rice would really add some great flavor and texture.
Print Recipe
Ingredients
Salad:
2 cups cooked Orzo
1/2 a medium sized red onion diced
1/2 red pepper diced
1/2 green pepper diced
1/2 cup coarsely chopped almonds
1 bunch of Italian parsley
1 Field Roast Italian Sausage cut into coins and pan fried or grilled.
Dressing:
1/4 cup olive oil
1 lemon juiced (a couple tablespoons)
1 clove of garlic finely minced
salt and pepper to taste
Directions
Mix the ingredients for the lemon vinaigrette and set aside.
Mix all the salad ingredients in a bowl along with the hot grilled Field Roast Italian Sausage. Serve hot or cold!