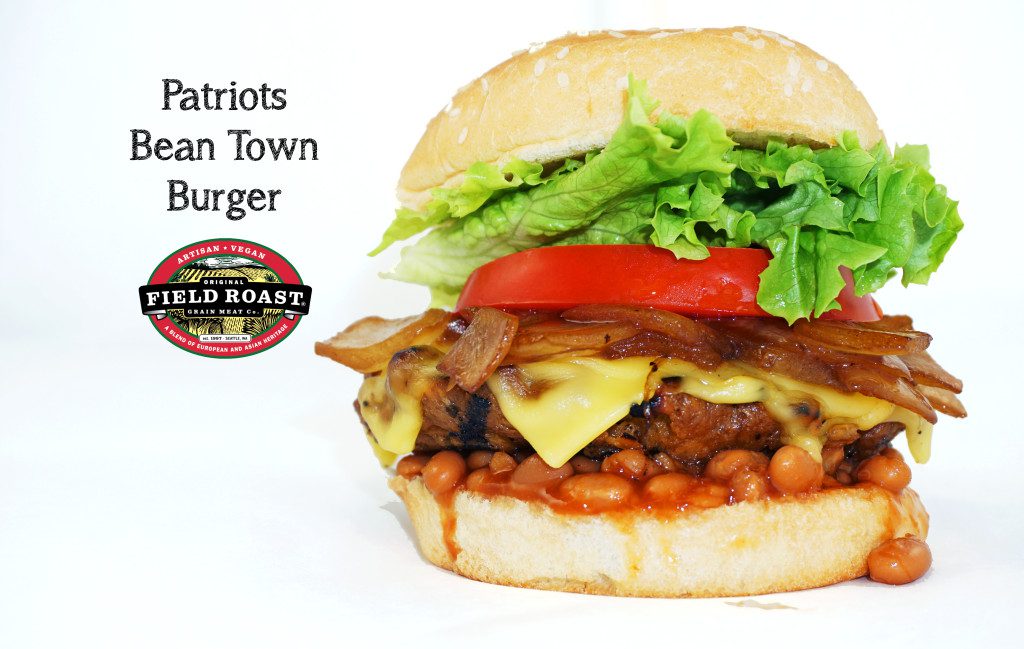 The Patriots are bringing some heat to the Super Bowl and bringing their "Bean Town" spirit with them! This FieldBurger is loaded with baked beans and beer-braised onions. so bring your appetite and plenty of napkins before loading up on this New England-Boston fusion. Go Pats!
Print Recipe
Ingredients
1-2 packages Field Roast Burgers (4-8 burgers)
1 package Creamy Original Chao Slices (4-8 slices)
1 16-20 oz can Vegan baked beans
2 Yellow onion
2 bottles Sam Adams Boston Lager
Tomato
Lettuce
4 Burger buns
Vegan mayonnaise
Directions
Heat a large skillet on medium-high. Slice both onions into 1-inch pieces and add to skillet, stirring evenly until onions are hot. Pour in both bottles of Sam Adams beers, or until onions are coated. Simmer for about 25 minutes, stirring occasionally, or until onions are translucent and caramelized.
Meanwhile, heat the baked beans over medium-high heat. Keep warm.
Fire up the grill or a skillet to cook the Field Roast Burgers. If you've got a big game-day appetite, prepare 2 patties for each burger. Cook each burger on one side until golden brown, flip over and add a Chao Slice on each burger and continue cooking until golden brown and cheese is slightly melted.
Toast the burger buns in the oven until golden brown. Spread your choice of vegan mayonnaise on each bun, slice the tomatoes a little thick and rinse the lettuce.
Now assemble your burger: bun, baked beans, burger and cheese (x2), beer-braised onions, tomato, lettuce, bun. Enjoy!