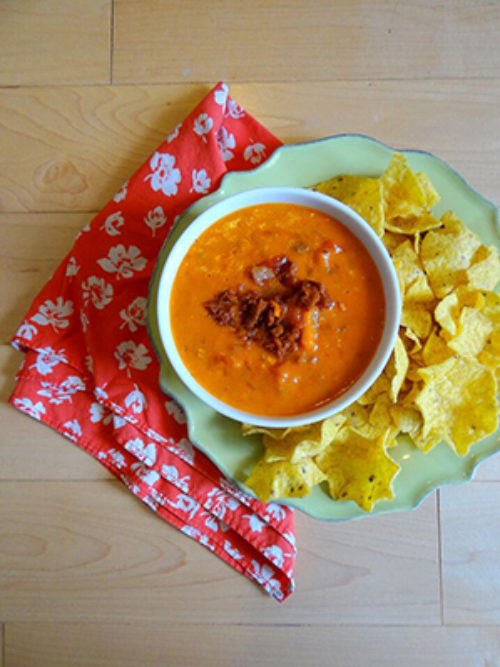 Pineapple Chipotle Chao Queso
For the Cooks In The Field "Mystery Month" Heather surprised us by merging sweet and spicy flavors to create a melty cheesy delight: Pineapple Chipotle Chao Queso! The perfect compliment to tortilla chips, a chili frankfurter, baked potato or french fries!
Ingredients
1 Field Roast Mexican Chipotle Sausage, chopped into small pieces
1 Tbs Olive oil or Coconut Oil
1 cup Almond Milk
⅓ cup pineapple salsa of choice
1 Package Tomato Cayenne Chao Slices, cut into cubes
Tortilla Chips or Fritos
*For less of a kick, use Creamy Original Chao Slices or Italian Sausage.
Preparations
To cube the Chao Slices, remove the entire stack from the package. Use a knife to make 5 vertical sections, and then turning to cut 5 vertical sections to intersect those - a tic tac toe design that will turn the stack into cubes. Next, chop the Mexican Chipotle sausage into small pieces.
In a medium sauce pan, heat oil over medium high heat. Add chopped Field Roast Sausage and sauté until browned. (Here you can set aside a few sausage bits to garnish the queso). Reduce heat to medium and add the Almond Milk, Pineapple Salsa & cubed Tomato Cayenne Chao Cheese.
Cook over medium heat, continuously stirring until cheese is fully melted and queso thickens.
Transfer the Queso to a bowl and serve with tortilla chips or fritos!
Pro tip: Pour this queso over a chili Frankfurter, baked potato or fries!