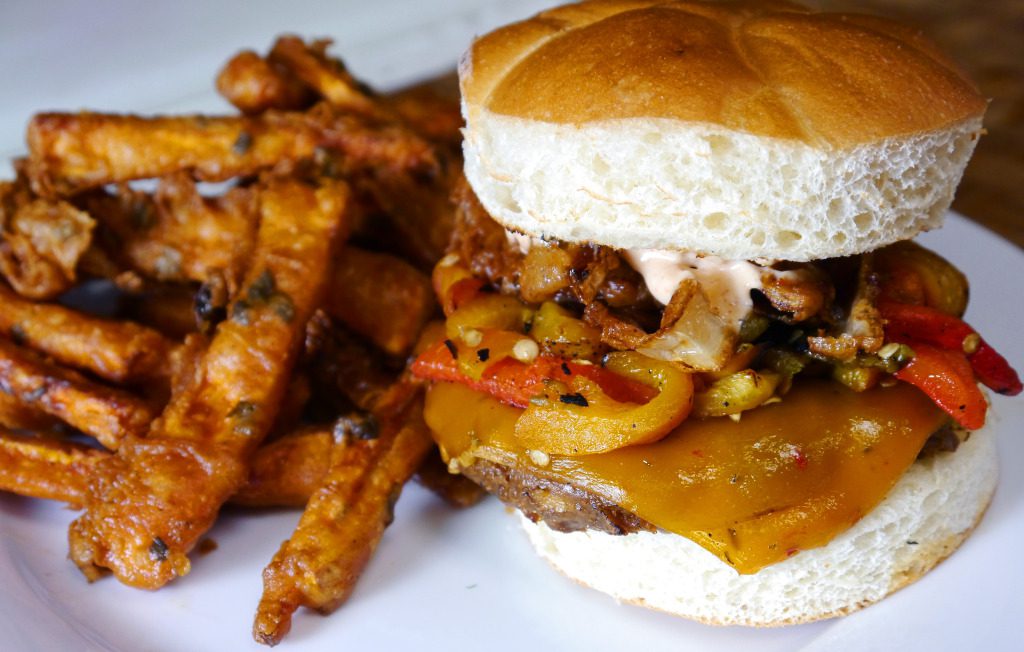 This cheeseburger packs a punch with crispy fried onions, spicy Field Roast Tomato Cayenne Chao Cheese atop a juicy hand-formed FieldBurger.
Print Recipe
Ingredients
4 FieldBurgers
4 Tomato Cayenne Chao Slices
4 Rustic buns
1/2 cup Vegan mayo
1 Large yellow onion, sliced into rings
1 cup Hemp milk
1 tsp Baking powder
1 cup Flour
1 TBS Salt
1 TBS Garlic powder
1 TBS Dried chives
1 can Chipotle peppers, minced
Juice from 1/2 a lime
8 oz Fire roasted red peppers
Directions
In a bowl, combine vegan mayo, chipotle peppers and lime juice. Set aside.
Combine flour, baking powder, garlic powder, chives and salt. Add hemp milk. Dip onion rings into batter and drop into fryer at 375°F until golden brown.
Grill Burgers over medium heat, adding Chao Slices halfway through to melt.
Grill Burgers, adding Chao Slices halfway through to allow to melt. Place on bun. Dress with chipotle mayo, fire roasted red peppers and onion rings.