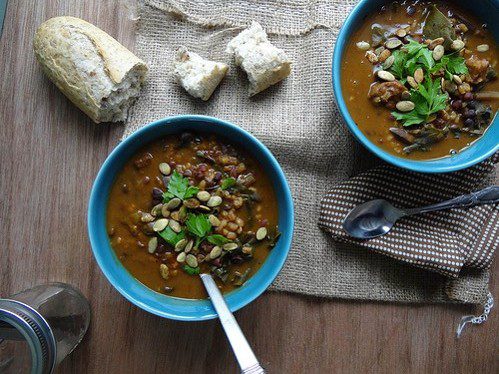 This beautiful Fall stew earned
Heather Poire
her title as a Field Roast Home Cook. Warm up and get lost in a bowl of amazing flavors: Field Roast Italian Sausage combined with delicious pumpkin, kale, green peppers, mushrooms, adzuki beans and farro...garnished with pumpkin seeds. Keep an eye out for
new recipes by Heather
in the following months!
Print Recipe
Ingredients
1 tsp olive or coconut oil
2 mild hot green peppers roughly chopped, such as Anaheim chile
2 cloves of garlic, minced
2 small shallots, sliced
2 cups sliced baby bella or wild mushrooms
1 link of Field Roast Italian Sausage sliced into rounds
1 large bunch of kale, stems removed and leaves roughly chopped
1/2 cup farro or other favorite grain or seed (dry measure)
8 cups of water, divided
1 tbsp nutritional yeast
2 tbsp balsamic vinegar
1 (15oz) can Pumpkin Puree ~ about 2 cups
1 cup adzuki beans (cooked)
salt & pepper to taste
fresh parsley, spicy roasted pumpkin seeds or pepitas for garnish
Directions
In a large skillet or soup pot heat oil over medium high heat. Add peppers through Field Roast Sausage, saute until mushrooms are golden brown. Add your grain of choice & balsamic to the pan - cook for about 1 minute until balsamic reduces. Add 3 cups of water & nutritional yeast to the pan bring to a boil, place the chopped kale on top of the soup and reduce heat to low, cover and allow to simmer for 20 minutes.
Add pumpkin puree along with the last 5 cups of water & adzuki beans - allow to simmer for an additional 25 minutes (less time may be needed depending on your grain of choice).
Season with salt & pepper & garnish with parsley and pepitas or spicy roasted pumpkin seeds.