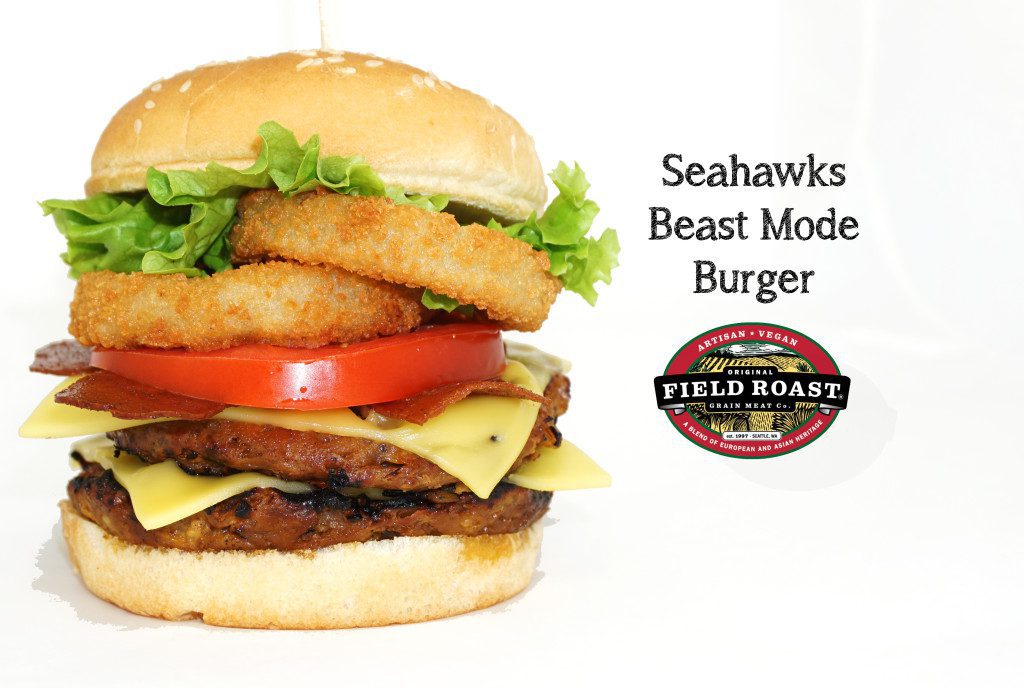 The Seattle Seahawks are heading to the Super Bowl for the 2nd year in a row and showing up in "Beast Mode". This is our rendition of "The Beast" burger inspired by Marshawn Lynch and sold at Century Link Stadium. Two of everything and a side of skittles. Go Hawks!
Print Recipe
Ingredients
8 FieldBurgers
8 slices Creamy Original Chao Slices
2 slices Vegan bacon
2 Onion rings
Lettuce
Tomato
Vegan mayonnaise
4 Burger buns
Directions
Heat your oven to prepare your onion rings. We used Alexia's Crispy Onion Rings with panko breading and sea salt and dropped them in the deep fryer, but the oven works great. Cook according to package directions (or try making your own!). Set aside and keep warm.
Meanwhile, heat a skillet over medium heat with a little bit of coconut oil and pan fry the bacon on both sides until crispy, about 3 minutes. Set aside and keep warm.
Fire up your grill or stove top to cook the Field Roast Burgers. Cook one side until golden brown, flip over and add a Chao Slice to each burger and continue cooking until golden brown and cheese is slightly melted.
Meanwhile, assemble your burger buns. Spread your choice of vegan mayonnaise on each bun. Slice the tomatoes a little thick and rinse the lettuce.
Bring everything together starting from the bottom: burger bun, both burgers topped with cheese, bacon, tomato, onion rings, lettuce and burger bun. Enjoy!