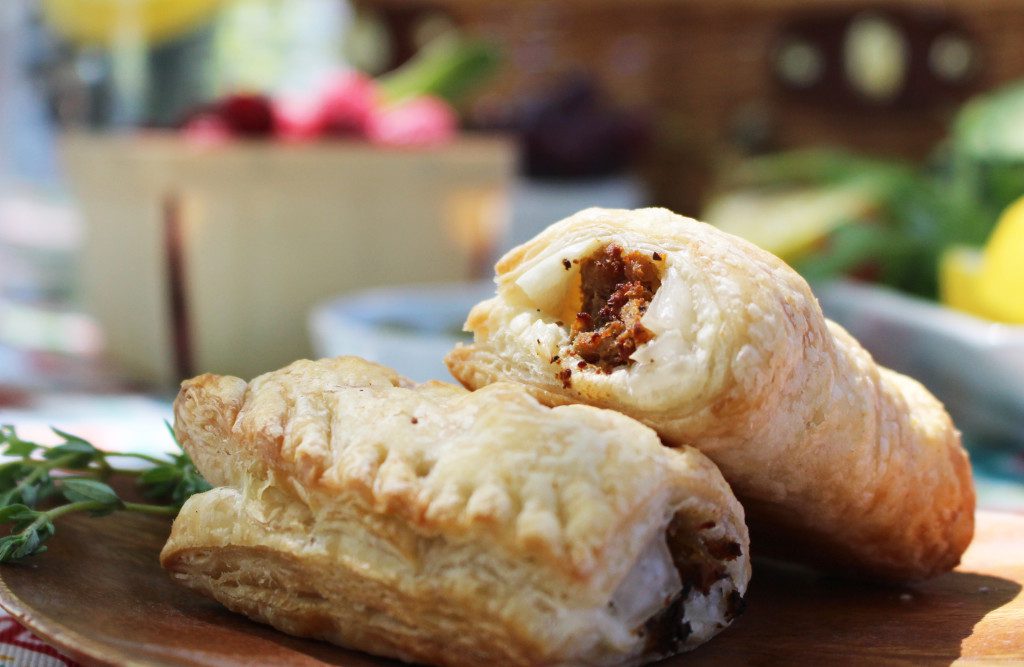 Easy hands-on vegan recipe!  Summertime picnics are the best, and this recipe will travel.  Simple and no fuss, these are positively delicious with cheesy bites that will satisfy!  Want to make them ahead, no problem!  Bake and cover with foil to keep warm until the picnic begins!  Don't need all of them at once? Freeze them for the future!
Print Recipe
Ingredients
2 links Field Roast Smoked Apple Sage Sausage
1/2 package (5 slices stacked) Field Roast Coconut Herb Chao Slices


1 package Vegan puff pastry

3 TBS Vegan butter, melted

3 TBS Water





Directions
Take out the sheets of puff pastry from the box to thaw during prep.

Preheat oven to 400°F.

Remove Field Roast Sausages from the packaging and crumble by hand into small pieces. You can also chop them if you don't want to get your hands dirty! Place into large bowl.

Remove Chao Slices from packaging and dice into small squares. Break up the Chao and combine with sausage crumble.

Spread out sheets of puff pastry and cut lengthwise with a pizza cutter.

Add 1/4 of the Sausage/Chao mixture just off-center lengthwise along the pastry. Be sure the mix reaches all the way to the edges.

Use a brush or finger to dampen the outer edges of the pastry sheet with water. Fold the sheet over and press the edges together with a fork.

Use a knife to cut slits along the top to allow for venting. Brush with melted vegan butter.

Cut the roll into 4 equal pieces.

Repeat the process with the remaining pastry sheets and sausage/Chao mixture.

Place all 16 pieces on baking sheet with parchment paper and cook until golden brown, about 8 minutes.

Allow to cool and then enjoy!  You could also substitute any of our Sausages and Chao Slices flavors to mix it up!