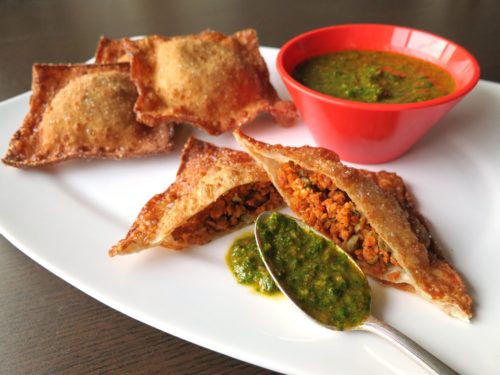 Smoked Tomato Briks with Chermoula Sauce
Briks are Tunisian pastries with crispy, fried-to-perfection exteriors enveloping a variety of savory fillings. This vegan take on briks by Joy Martin, our Cooks in the Field Urban Foodie, uses traditional Tunisian ingredients – harissa (spicy chili sauce), briny capers, and lemon zest – to highlight Field Roast's Smoked Tomato Quarter Loaf. Drizzle a freshly-fried brik with plenty of Chermoula (a lemony herb sauce) for a mouth-watering appetizer packed with North African flavors.
Ingredients
For Smoked Tomato Briks:
6 oz (half of one loaf) Field Roast Smoked Tomato Quarter Loaf, roughly chopped
1 TBS capers, well rinsed
1 tsp Harissa
1 tsp Lemon zest
16-24 Vegan wonton wrappers
Water, for sealing the wontons
2-3 cups Oil for frying, such as grapeseed or peanut
Coarse salt
For Chermoula Sauce:
1 cup Cilantro leaves, lightly packed
1/2 cup Parsley leaves, lightly packed
1/4 cup Lemon juice
3 cloves Garlic, roughly chopped
2 tsp Ground cumin
2 tsp Harissa
1/4 Salt
1/4 cup Olive oil
Preparations
For Smoked Tomato Briks:
In a food processor, pulse the Field Roast, capers, harissa, and lemon zest until the mixture has the texture of ground meat. Transfer to a medium bowl and set aside. Place your wonton wrappers on a plate covered by a slightly-moist paper towel and prepare a "landing" zone for the assembled briks with a large platter or sheet pan covered by slightly-moist paper towel.
To assemble each brik: Place 1 1/2 tablespoons of filling in the center of one wonton wrapper (a #40/medium cookie scoop is the perfect tool for this job). Moisten the edges of the wrapper (all four sides) before placing a second wonton on top on the first to create a ravioli-style pastry. Positioning the second wrapper works best if you match up all of the edges first, then lightly press down on the pastry's center to release any air trapped in the filling. After removing the air from the pastry, press all four edges to form a good seal, then transfer to the "landing zone" platter and cover with the moistened paper towel. Repeat this process until all of the filling is gone - you should end up with 8-12 briks.
To fry the briks: Lay a double-layer of paper towels over a cooling rack/sheet pan and set aside. In a large, high-sided pot, add enough oil to reach a depth of about 1 1/2 inches. Place pot over medium to medium-high heat and bring oil up to 350 degrees - the easiest way to measure this is with a cooking thermometer. If you don't have a thermometer, wait until the pot of oil is shimmering (but NOT smoking), then test the temperature of the oil by frying "test strips" of an extra wonton wrapper - a one-inch strip of wonton should fry up to a golden brown within 10-15 seconds.
Once the oil reaches 350 degrees, gently slide one brik into the pot, carefully spooning oil over any unsubmerged dough. Fry until the edges of the brik turn golden, then use tongs to turn over the brik and fry other side. Once brik is evenly golden brown and crisp, use tongs to carefully lift it from the oil, allowing excess oil to drain off before transferring to the cooling rack and sprinkling with coarse salt. Repeat this process, cooking one (or two, if your pot is roomy enough) brik at a time, until all the briks are fried. Serve immediately alongside Chermoula sauce.
For Chermoula Sauce:
In a food processor, pulse the cilantro, parsley, lemon juice, garlic, cumin, harissa, and salt until herbs are very finely chopped. Add the olive oil and pulse until mixture forms a textured sauce (quite similar to a pesto). Taste for seasoning, adjust if necessary, then transfer to a small bowl and set aside until ready to serve.