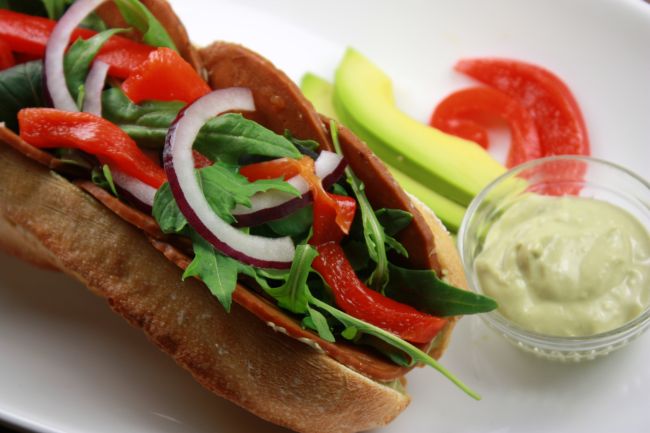 The avocado green goddess dressing should be made ahead of time to allow the flavors to meld.  Use it on this delicious sandwich or on your favorite salad.
Print Recipe
Ingredients
Dressing:
1 Avocado, sliced
1 cup Vegan mayonnaise
2 stems Green onion, sliced
1 clove Garlic, minced
1 TBS Soy sauce
2 tsp Lime juice
1 package Field Roast Smoked Tomato Deli Slices
1 Baguette
Arugula
Roasted red peppers
Red onion
Directions
In a blender, mix avocado, mayonnaise, green onion, garlic, soy sauce, and lime juice and blend until smooth. Store refrigerated for 1 day to allow flavors to meld.
Slice Baguette in half and slather with Avocado Green Goddess Dressing.  Top bread with slices of Smoked Tomato Deli Slices, arugula, red onion and roasted red peppers.