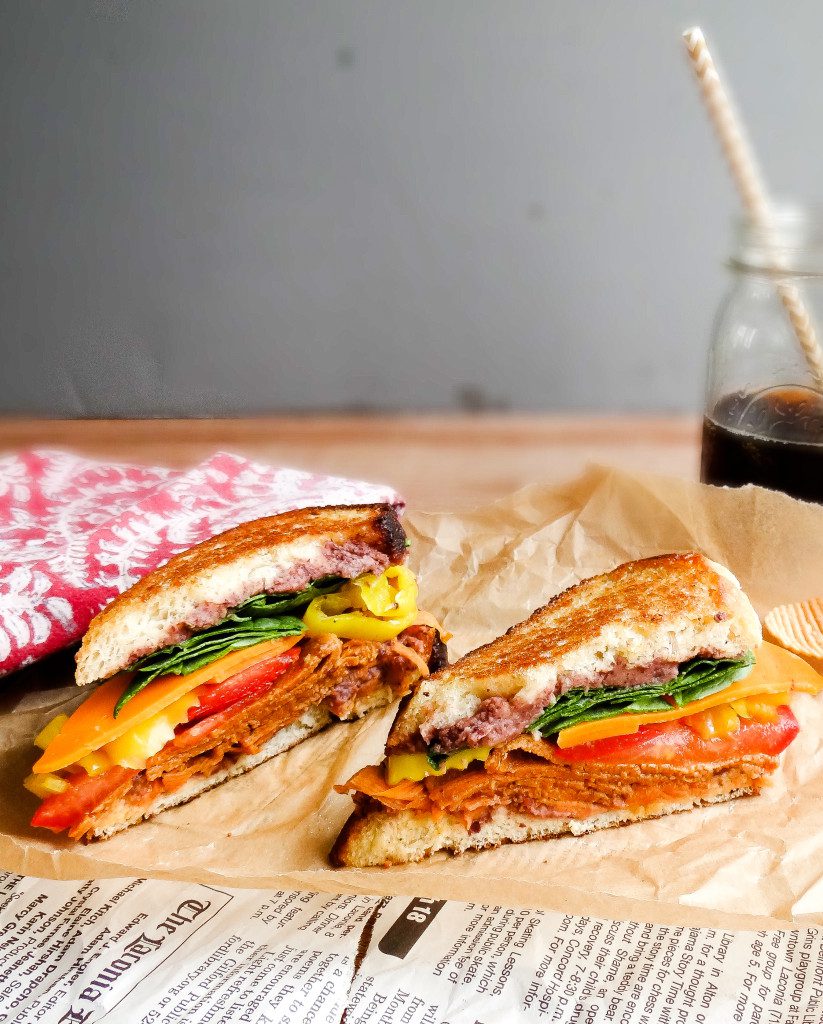 This flavorful sandwich with melted cheese and black bean spread by
Cook in the Field
Heather Poire combines all the right flavors for a nice little kick in each bite!
Print Recipe
Ingredients
Black bean spread:
1 cup Black beans, drained & rinsed
Juice of 1/2 a lime
3-5 dashes Cholula Chipotle Hot Sauce
Salt, to taste
Sandwich:
2 slices Rustic bread
1/2 Small carrot, shredded
2 Field Roast Smoked Tomato Deli Slices
3 Tomato slices
4-6 Danana peppers (rings)
1 slice Tomato Cayenne Chao Cheese, cut in half
1/2 cup Baby spinach
1-2 tsp Vegan butter
Directions
Start by making the black bean spread. In the bowl of your food processor, fitted with an s blade, add drained + rinsed black beans, juice of 1/2 a lime, salt + Cholula. Process until black bean spread is smooth - about 1-2 minutes.
Now prepare the sandwich. Spread about 1 tablespoon of black bean spread on one side of each slice of bread (2 tbsp total). Place the shredded carrot on one slice of the bread. Layer both slices of Field Roast Smoked Tomato Deli Slices on top of the carrots, folding the slices in half to fit the bread. Next, lay the tomato slices on top of the deli slices. Top with the banana peppers and then Chao cheese slices. Top the remaining slice of bread with baby spinach, place the 2 slices of bread together.
Heat a small fry pan over medium heat, melting a dab of vegan butter to coat the bottom. Place the sandwich in the pan and cover with a lid. Cook for 2 minutes, uncover + flip once bread is golden brown. Cook the other side for 2 additional minutes until bread is golden.
Remove from the pan , cut in half & enjoy!