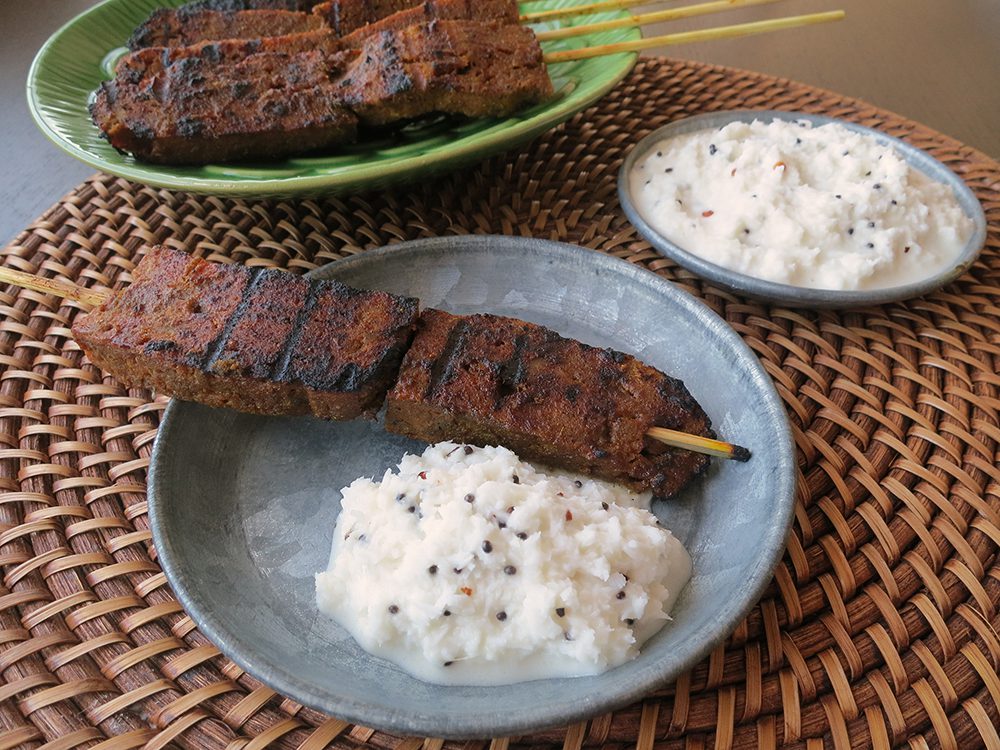 Indian kebabs combine the ground meat kebab tradition of the Middle East with Indian flavors. Marinating and grilling slices of Field Roast Classic Meatloaf creates a fantastic vegan "ground meat" kebab - juicy, boldly flavored, and beautifully charred. A generous dollop of cool, milky-sweet Coconut Chutney is the perfect complement to this smoky, spiced summer dish. -Cooks in the Field 
Urban Foodie
 Joy Martin
Print Recipe
Ingredients
For South Indian Kebabs:
1 package Field Roast Classic Meatloaf
1/2 cup Light coconut milk
2 Tbsp Low-sodium soy sauce
2 tsp Natural cane sugar
1 Tbsp Freshly grated ginger
2 cloves Garlic, minced
1 tsp Turmeric
1 tsp Garam masala
1 tsp Ground coriander
For Coconut Chutney:
3/4 cup Unsweetened finely-shredded coconut
3/4 cup Light coconut milk
1/2 inch coin Fresh ginger, peeled and chopped
1 tsp Lime juice
1 tsp Natural cane sugar
Salt, to taste
1 tsp Neutral oil
1/2 tsp Black or brown mustard seeds
1/8 - 1/4 tsp Red pepper flakes, depending on your heat preference
Directions
Soak 12 bamboo skewers in cold water for 20 minutes. While skewers are soaking, prepare the kebab components. Use a sharp serrated knife to cut the meatloaf lengthwise into 6 (1/2-inch thick) slices, then cut each slice in half lengthwise and widthwise – you'll end up with 24 1-inch-by-3-inch pieces. Alternatively, cut the meatloaf into bite-size cubes (this shape is easier to skewer but not as traditional). Arrange meatloaf pieces in a single layer in a large container and set aside.
To make the marinade, puree the coconut milk, soy sauce, sugar, ginger, garlic, turmeric, garam masala, and coriander until smooth – a small food processor or immersion blender work well for this. Brush or spoon the marinade on the kebabs until coated well on all sides. Chill kebabs in fridge for 20 minutes. While kebabs are marinating, prepare your grill and make the Coconut Chutney.
To make the Coconut Chutney, microwave the coconut milk in a microwave-safe bowl until hot (about 1 minute), then stir in the coconut and set aside for 3-5 minutes until coconut has softened and plumped slightly. Transfer coconut mixture to a blender along with ginger, lime juice, sugar, and a pinch or two of salt and blend until no large pieces of ginger remain. Scrape down the sides occasionally and add additional tablespoons of water as necessary to achieve a spoonable-but-textured sauce. Pour chutney into a serving bowl and set aside.
Bring a small pan over medium heat and add the oil. Once oil is hot, add the mustard seeds and red pepper flakes and cook briefly until seeds are popping. Pour oil mixture into the bowl of chutney and stir to incorporate. Chill in fridge until ready to serve.
Once skewers are finished soaking, assemble the kebabs by gently threading 2 pieces (or a few cubes) of meatloaf onto each skewer. If you haven't already, heat your grill or a cast iron grill pan to medium-high heat and oil lightly once hot. Arrange kebabs on grill and cook undisturbed for 1-3 minutes, until grill marks appear and kebabs lifts easily from the cooking surface. Turn and cook other side, removing promptly from grill once done to avoid overcooking. Serve hot alongside cool Coconut Chutney.