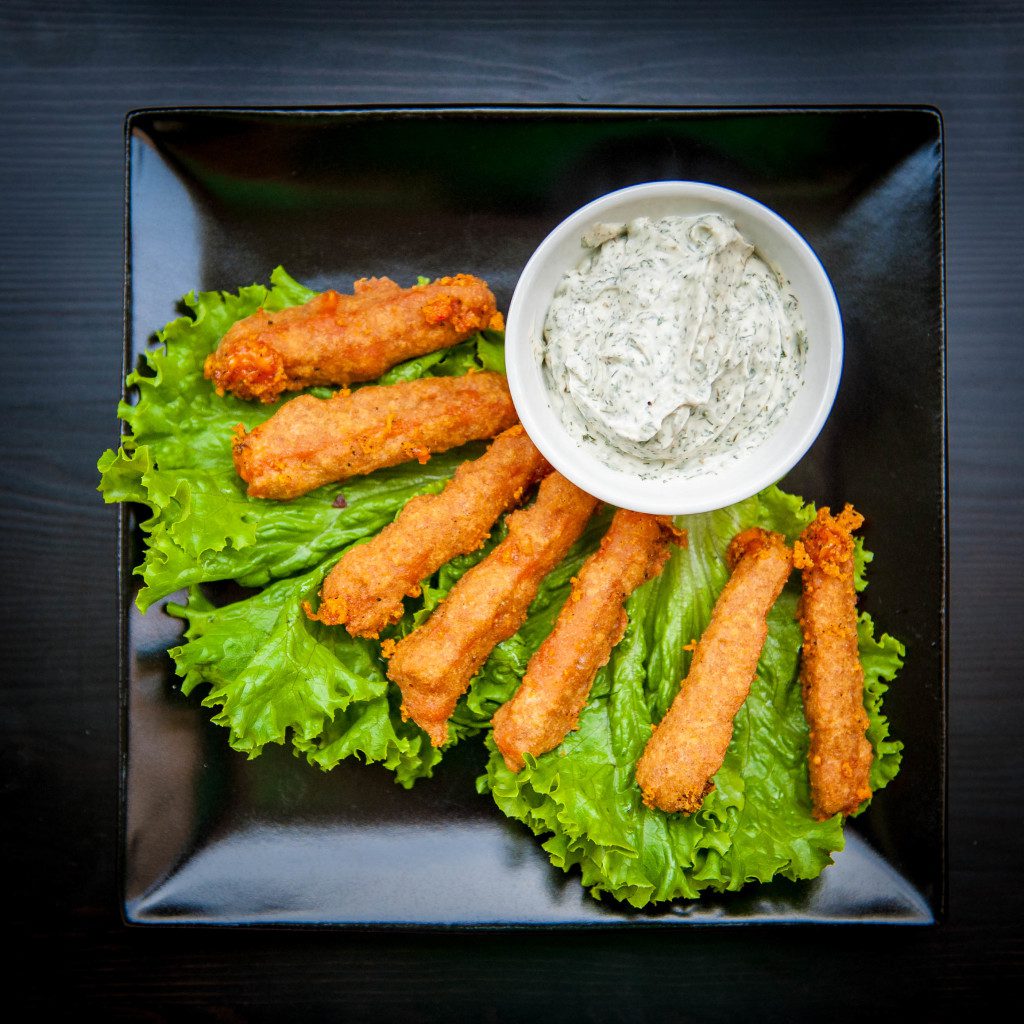 Touchdown! These are the best vegan cheese sticks and homemade ranch dressing you'll have on Game Day (or any day) thanks to
Chuck Pepper Jr
.
Print Recipe
Ingredients
Cheese Sticks:
1 package Tomato Cayenne Chao Slices
1/2 cup almond milk
1/3 cup flour
1/2 cup panko bread crumbs
1/2 teaspoon cayenne powder
Your favorite frying oil
Easy Ranch Dressing:
1/2 cup vegan mayo
1/2 cup vegan sour cream
1/2 tablespoon dried parsley
1/2 tablespoon dried dill weed
1/2 tablespoon garlic salt (I used California garlic salt with parsley)
Directions
Start by slicing the Tomato Cayenne Chao Slices into cheese sticks.  Cut in half down the middle, then halved each of those halves length wise.  At this point you have four large cheese sticks, or you can quarter those for smaller sticks (as pictured).
Add flour to a large bowl and coat the cheese sticks.  Set those aside and add the rest of your ingredients into the bowl with the flour.  Stir them together to make a batter.  Prepare a plate with some wax paper on it because it's batter'n time!
Dunk your flour'd cheese sticks in the batter, coating as much as possible, and set them on the wax paper.  Repeat until all of your cheese sticks are coated with batter.  Then place your plate in the freezer for 15 minutes.
While your cheese sticks are cooling make the ranch dressing.  Throw everything in a bowl and mix. That's really it.  But it's delicious.  So there's that.  It's probably going to make more than you'll use for the cheese sticks, but that's what chips are for. Or...make more cheese sticks!
About 5 minutes before the cheese sticks are done cooling start heating the oil.  You can use a deep fryer or a large cast iron dutch oven, which was used here.  Crank that badboy up and bring the oil to about 375 degrees (190 c).
When the oil is hot, add the cheese sticks carefully to the oil, in two batches if needed.  Let them cook for about 2 minutes until they're golden brown then carefully scoop them out and place them on a plate with some paper towels to soak up the excess oil.  Allow them to cool for a few minutes (lets say 5 minutes, until the cheese has reached that perfect consistency between "solid no longer fun to eat" and "molten you've just burned your mouth have fun eating for the next couple days". Dip in ranch and enjoy!