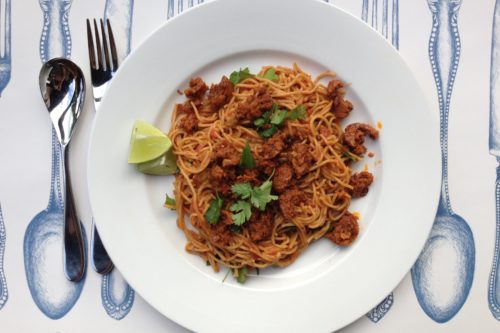 Tex Mex with Field Roast Mexican Chipotle Sausages
This recipe is a great go to and only takes about 15 minutes to whip together at the end of the day. Depending on the heat, flavor, and color of the salsa you use in this recipe, there are countless possibilities.
Ingredients
2 Field Roast Mexican Chipotle sausages crumbled
1 Tablespoon of cooking oil
1 12 oz. package of pasta, cooked
1 cup jarred or homemade salsa
½ cup of cheddar style vegan cheese shreds (or more to your liking)
Fresh cilantro
Salt and Pepper to taste
Preparations
Boil a large pot of water and cook your pasta according to the package directions (I used spaghetti but any pasta will do); drain and set aside.
In a large pot heat the cooking oil and crumble the Field Roast Mexican Chipotle sausages into the pan (Note: this helps to prevent staining of your cutting boards from the chili oils). Brown the crumbled sausage for 3 minutes. This will create a nice fond at the bottom of your pan. Pour in the salsa of your choice as well as the lime juice and use this to deglaze the pan. Bring to a simmer and allow to cook for one minute. Add the cooked pasta and stir to coat. Sprinkle in the vegan cheese shreds a little at a time, stirring between additions to allow them to melt and get incorporated.
Simmer for a few minutes until warm. Add salt and pepper to taste and sprinkle with cilantro and a fresh squeeze of lime.