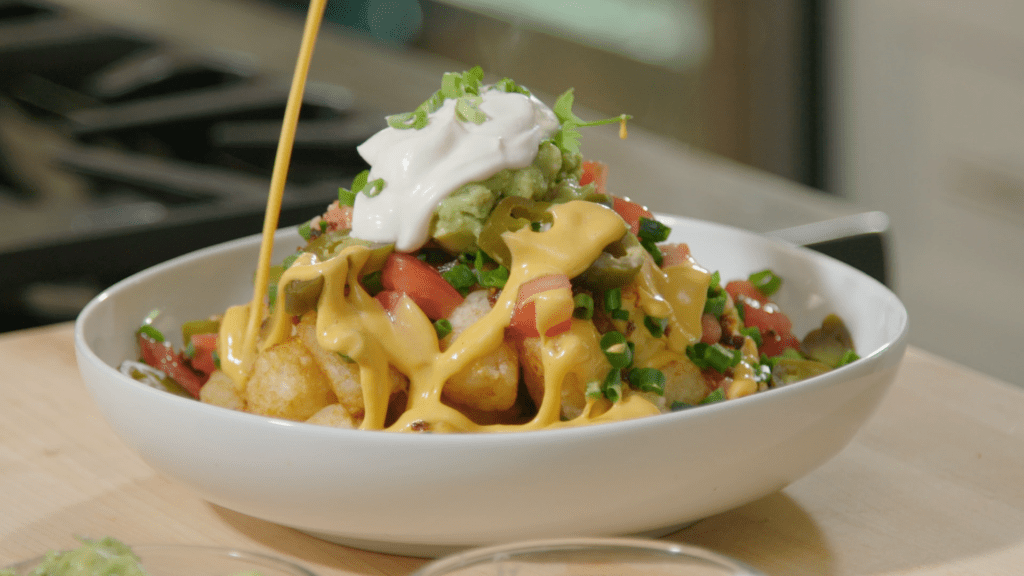 We proudly present: Tot'chos! Layer tater tots with our Chao Queso Con Carne, plus green onions, tomatoes, pickled jalapeños, guac, and top with plant-based sour cream. Serve to four of your luckiest friends — or devour it yourself.
Print Recipe
Ingredients
1 recipe plant-based queso, warmed
4 Field Roast Mexican Chipotle Sausages, halved and roughly chopped
2 TB olive oil
½ white onion, chopped
4-5 cups tater tots, prepared according to package instructions - crispy
1 tomato, diced
2 green onions, sliced thin
¼ cup pickled jalapeños
½ cup prepared guacamole
½ cup plant-based sour cream
Fresh cilantro, for serving
Directions
Place the chopped Field Roast sausages into a food processor and pulse until course ground.
Warm a large cast iron pan over medium heat and add the oil. Add the onions and saute over medium heat until slightly softened and translucent. Add in the ground sausage and saute for several minutes more, allowing the crumble to crisp up. Remove from heat.
Remove tots from oven once crispy. Place half of the tots into a large serving bowl, topping with ½ cup of the warmed queso. Add the rest of the tots to the bowl, adding another ½ cup of the queso. Top as much as desired with the browned sausage, tomato, green onions, pickled jalapeños, guacamole, plant-based sour cream and extra queso.
Serve immediately with all your friends.
Recipe © Wicked Healthy, LLC