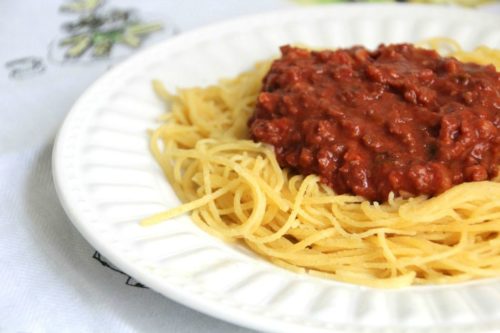 "One of my favorite meals growing up was my Mom's Bolognese. To me, bolognese is the perfect comfort food. After falling in love with Field Roast products, I decided to create a simple recipe using their delicious FieldBurgers. This recipe became an instant hit with my family and friends who insisted that there was no way that this dish could be vegan" – Rebecca, She Well
Ingredients
1 tbsp Extra virgin olive oil
4 cloves Garlic, minced
4 FieldBurgers
1 tbsp Dried oregano
1/4 tsp Crushed red pepper flakes
1 1/4 cups Dry red wine, divided
1 28 oz can Crushed tomatoes
2 tbsp Tomato paste
12 oz Whole wheat pasta
1/4 tsp Ground nutmeg
1/4 cup Fresh basil leaves, chopped & lightly packed
Preparations
First, place the 4 Field Burgers into a large food processor and grind until desired ground consistency. Set aside.
Heat the olive oil in a large skillet on medium heat and add the minced garlic. Once the garlic becomes fragrant, add the grounded patties to the skillet, along with the garlic, oregano and red pepper flakes.
Next, add in 1 cup of the dry red wine and stir. Add the canned tomatoes, tomato paste and freshly ground pepper and mix well. Bring the sauce to a boil and then lower to simmer for 10 minutes.
While the sauce is simmering feel free to cook the pasta, following the directions on the box.
After 10 minutes or so, add in the nutmeg, basil and the remaining 1/4 cup of wine. Allow the sauce to simmer for 10 minutes or so, stirring occasionally until it becomes thick.
Remove the sauce from heat and allow to cool before serving with pasta. Enjoy!