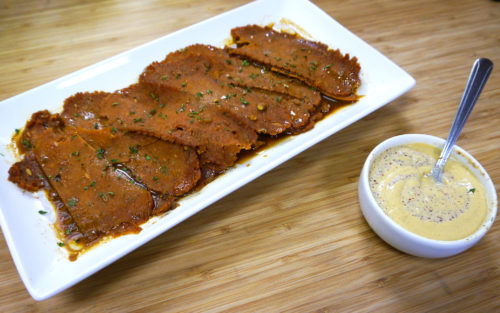 Field Roast "Corned-Beef" & Braised Vegetables
Our version of a classic St. Patrick's Day meal! Celebrate with Field Roast "corned-beef" and braised vegetables, complimented by an Irish stout.
Ingredients
For the Corned Roast:
1 Field Roast Smoked Tomato Quarter Loaf
1 carton unsalted vegetable stock
1/2 cup brown sugar
2 tsp. sea salt
1 tsp. whole cloves
1 cinnamon stick
2 cloves garlic
1 tsp. pepper corns
1 tsp. mustard seeds
1/2 tsp. round ginger
1/2 tsp ground coriander
3 bay leaves
stone ground mustard for serving
For the Braised Veggies:
1 lb green cabbage, cored and sliced into wedges
1 lb small red potatoes, halved
1 lb carrots, peeled and coarsely chopped
2 cups unsalted vegetable stock
2 cloves garlic
1 thick slice fresh ginger
1 tsp. peppercorns
2 tsp. sea salt
1/2 tsp. ground black pepper
3 bay leaves
2 TBL vegan buttery spread, for serving
Preparations
Arrange veggies in a large casserole dish or deep baking pan. Pour the stock over the veggies and scatter the remaining ingredients over the top.
Cover tightly with aluminum foil and bake in 350° oven for about an hour, until veggies are cooked through.
In the meantime, thinly slice the Field Roast Smoked Tomato Quarter Loaf lengthwise and set aside.
Pour the vegetable stock into a medium sized saucepan and add the rest of the ingredients. Heat on medium-high heat for about 20 minutes to steep the spices.
Strain and return to the saucepan on medium-high heat. Add the Smoked Tomato Quarter Loaf slices and heat through (about 5 minutes).
Serve on a platter with a good drizzling of the seasoned broth and stone ground mustard on the side. Season the finished vegetables to taste with additional salt. Toss potatoes with buttery spread. Enjoy altogether!