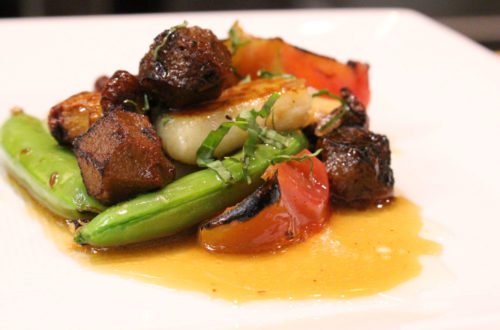 Vegan Gnocchi with Roasted Vegetables and Field Roast Wild Mushroom Meatballs
A vegan exploration on classic Italian. This dish features local mushrooms, tomatoes and seasonal vegetables. The wine sauce keeps everything light for a nice summer meal. A Field Roast Wild Mushroom Quarter Loaf is cut them into interesting shapes for a fun twist on meatballs, but Field Roast Italian Sausage would be a great option here as well.
Ingredients
Vegan Gnocchi
2 Russet potatoes (Idaho)
1 tsp + 1 tbsp Sea salt
1 tbsp + ¼ cup Extra virgin olive oil
1 cup Unbleached wheat flour
½ tbsp Black pepper
Madeira Wild Mushrooms with Snap Peas
2 Heirloom tomatoes (California)
2 cloves Garlic, minced
1 Shallot, diced
2 cups Snap peas
1 cup Wild mushrooms such as chanterelles (Washington)
1 Field Roast Wild Mushroom Quarter Loaf, cut into chunks
2 cups Madeira Wine
½ bunch Fresh basil
Sea salt, to taste
Black pepper, to taste
Extra virgin olive oil, for sautéing
Preparations
For the Gnocchi
Cover potatoes with 1 tsp salt and 1 tbsp olive oil. Bake in 350°F oven for 1 hour.
Remove from oven and cut in half, scooping out all of the potato from the skin.
Put potato through ricer, add 1 cup of flour, 1 tbsp sea salt, ½ tbsp black pepper and ¼ cup olive oil. Fold gently in a bowl.
Turn out onto lightly floured surface and knead until just comes together.
Return to bowl and chill in refrigerator until needed. You can make gnocchi dough ahead, even the day before.
Form the gnocchi by rolling portions of dough into ropes on a floured surface. Cut ropes into 1/2" pieces.
For the Sauce
Slice tomatoes and roast in oven at 500°F until blackened.
Sauté garlic, shallots, snap peas, chanterelles and Wild Mushroom Quarter Loaf chunks in olive oil. Season to taste. Deglaze pan with wine and let reduce by half.
Boil gnocchi in water until floating, then sauté in pan with olive oil until GBD (golden brown delicious).
Toss together gnocchi with sauce and garnish with fresh basil. Enjoy!