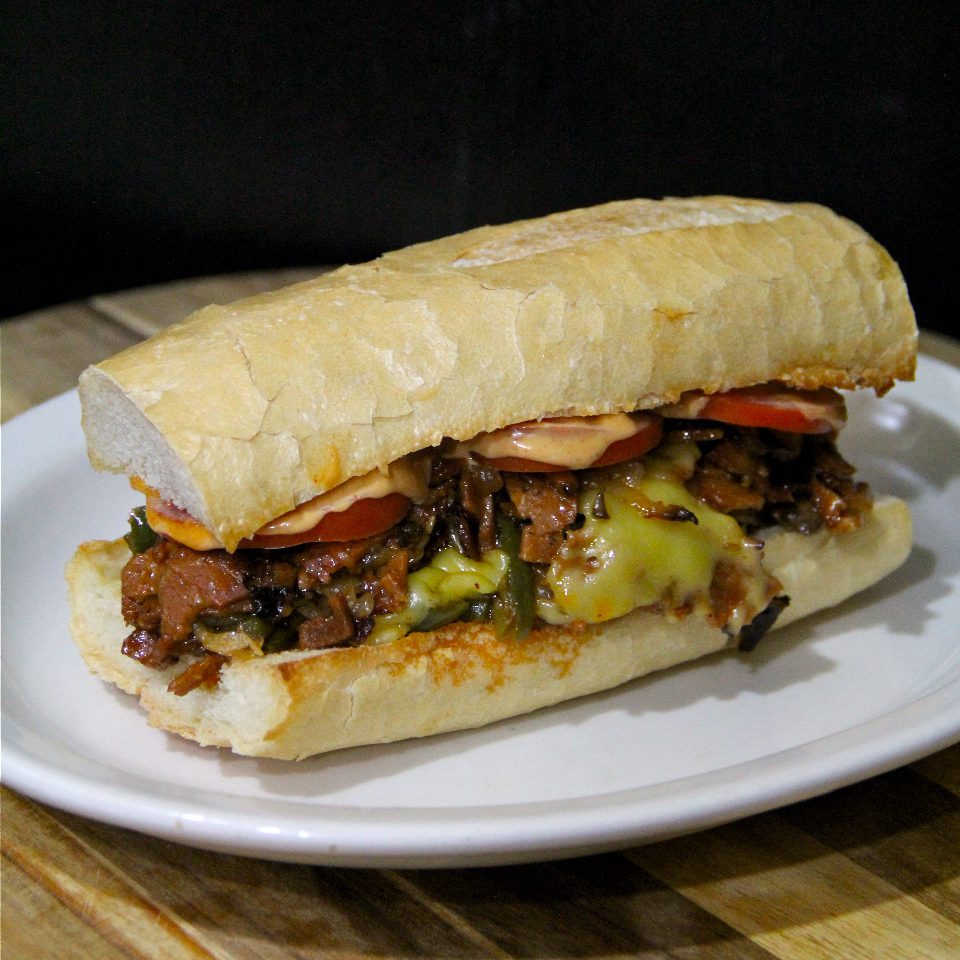 This recipe was submitted for the #CooksInTheField2015 Recipe Contest by Julie Hashimoto-McCreery from Ashland, Oregon. Check out her blog, 
Forbidden Rice
!
Print Recipe
Ingredients
2 tablespoons oil
1 clove garlic, minced
1/2 pound crimini mushrooms, chopped
1 tablespoon dried parsley
smoked sea salt and pepper to your liking
2 white onions, halved then sliced thinly
1 large green bell pepper, sliced in thin strips
3 tablespoons oil
1 teaspoon smoked sea salt
1/2 teaspoon ground black pepper
3/4 cup Vegenaise
2 chipotle peppers in adobo sauce, minced
1 clove garlic, minced
juice from 1/2 a lemon
pinch of smoked sea salt and pepper
3 packages Field Roast Smoked Tomato Deli Slices
2 tablespoons olive oil
8 slices Field Roast Creamy Original Chao Slices
2-3 Roma tomatoes, sliced about 1/4-inch thick
1 pound sourdough baguette, cut into four equal portions
Directions
Prepare the mushrooms: Heat two tablespoons of olive oil over medium heat. Add the garlic and sauté for about 20 seconds. Add the mushrooms and sauté until tender but not mushy (4-5 minutes). Toss with the parsley, salt and pepper. Set aside, off the heat, until needed.
Prepare the onions and peppers: Heat the three tablespoons of oil over medium-high heat (you can use the same pan you cooked the mushrooms in). Add the onions and cook until nearly translucent (4-5 minutes). Add the strips of bell pepper, teaspoon of salt, and half teaspoon of pepper. Sauté until the peppers are tender (4-5 minutes). Set aside until needed.
Prepare the sauce: Whisk together the Vegenaise, chipotle peppers, minced garlic, lemon juice, salt and pepper until well combined. Set aside until needed. (Leftovers can be refrigerated for up to 1 week.)
Prepare the veggie meat: Roughly chop the deli slices into un-uniform bite size pieces. Heat two tablespoons of olive oil over medium-high heat. Add the chopped deli slices to the pan and sauté until lightly brown. Add the mushrooms, onion and peppers, along with four torn up Chao slices. Toss to evenly distribute the ingredients until the Chao begins to melt. Place the remaining four slices of Chao over the mixture, in a single layer, then reduce heat to medium-low and cover, allowing the Chao to melt.
Meanwhile turn your oven on to broil. Slice each of the baguette portions lengthwise. Place the bread under the broiler, cut-side up, until lightly toasted.
To make the sandwiches, spread some of the chipotle mayo on each of the baguette halves. Top with the deli slice mixture (1/4 of the filling per sandwich). Top with slices of tomato, close the sandwich and serve immediately. Enjoy!