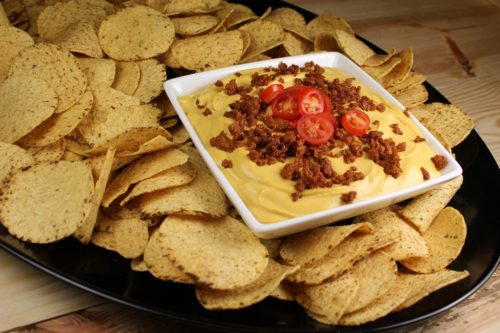 Vegan Queso With Smoked Tomato Crunch
An easy-to-make party favorite! This queso is great as a dip for tortilla chips, soft pretzels, and veggie platters. It also makes a great topping for baked potatoes, Frankfurters, and anything else that could use a drizzle of molten cheesy goodness combined with smoky crunchy bits.
Ingredients
1 cup Raw cashews
2 TBS Sea salt
4 Cippolini or pearl onions
2 cloves Garlic
1 tsp Turmeric
2 tsp Yellow mustard
1 Jalapeno
1 Anaheim chile
2 TBS Safflower oil
1/4 cup Nutritional yeast
1/2-3/4 cup Nut or hemp milk
1/4 cup Field Roast Smoked Tomato Quarter Loaf, crumbled
Preparations
Do ahead: Cover cashews in water and allow to soak for 4-8 hours.
Preheat oven to 375°F.
Drain cashews after soaking and rinse clean.
Toss both peppers, onions, and garlic in oil and roast for 25-30 minutes.
Add all ingredients except Smoked Tomato Quarter Loaf to blender or food processor and process on high until very smooth.
Add crumbled Smoked Tomato Quarter Loaf to a pan over medium low heat. Stir periodically, allowing the quarter loaf to get crispy.
Transfer cheese to a bowl and garnish with Smoked Tomato crunch.