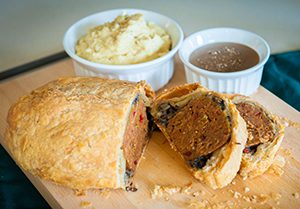 Who says you can only make a delicious wellington with mashed potatoes and gravy during a holiday or special occasion? Ok, it's a perfect recipe for that. But, for the Cooks In The Field "Mystery Month"
Chuck
has created a mouth-watering meatloaf wellington to prove that you can enjoy this comfort food any day of the week or time of year. Thank you, Chuck!
Print Recipe
Ingredients
Wellington with Gravy:
1 Field Roast Classic Meatloaf
2 Creamy Original Chao Slices
1 packet Porcini Mushroom Gravy (or vegan gravy of choice)
1 package frozen vegan puff pastry
1/2 medium yellow onion, diced
2 oz cremini mushrooms, diced
Olive oil
Salt
Flour
Mashed Potatoes:
5 pounds russet potatoes, peeled & chopped
2 cups raw cashews, soaked
2 cups vegetable broth
1 cup vegan butter
1/2 cup nutritional yeast 
2 tbsp salt
1 tbsp garlic salt
Directions
For Wellington with Gravy:
*Remove puff pastry from the freezer and let it thaw on the counter according to the instructions. Make sure it is thawed but still cool, usually about 40 minutes.  At the same time, remove the Field Roast Classic Meatloaf from the fridge and let it warm a little bit.
Pre-heat oven to 350 and heat olive oil in a skillet over medium high heat. Saute onions, about 4 minutes, then add the mushrooms and salt to taste. Saute until cooked and remove from heat – set aside.
Spread some flour on a large flat surface and lay out the puff pastry. Spread the onion and mushroom mix out in a thin layer across the puff pastry, leaving about an inch from the edges. Next, layer the Chao slices down the middle of the puff pastry forming a line. Remove the meatloaf from its package and place it in the middle over the cheese slices. Carefully fold the puff pastry, bringing the sides to the top of the meatloaf, pinching them together.  Fold in the ends to encase the meatloaf in puff pastry goodness.
Move the wellington to a baking sheet and brush with olive oil. Place it in the oven and cook until the pastry is firm, puffed up and golden brown, about 40 minutes.
Meanwhile, when the wellington is almost done cooking, make the Field Roast Porcini Mushroom Gravy according to the packet (combine gravy mix and water, simmering for 6 minutes).
Remove the wellington from the oven and transfer to a cutting board to cool slightly. Carefully slice the wellington into 1" pieces, being careful with the delicate puff pastry. Serve with mashed potatoes (below) and smother with gravy!Creamy Mashed Potatoes 
For Mashed Potatoes:
*Soak cashews in hot water overnight
Boil the peeled & chopped potatoes for about 15 minutes.  
Meanwhile, make a creamy sauce for them.  In a blender, add all the remaining ingredients & blend until smooth and creamy - set aside.
Strain & transfer the potatoes back into the pot & add the creamy sauce.  Mash until smooth & combined.  Serve alongside the sliced wellington and smothered in gravy!