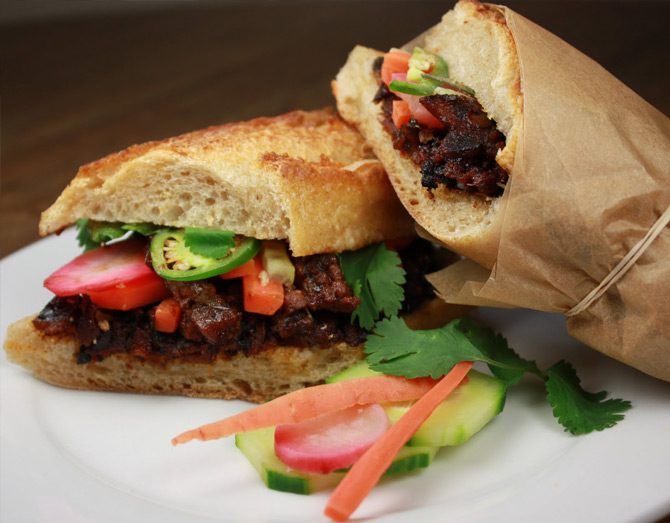 Go to any Vietnamese deli and you're sure to find Bánh mì sandwiches. Traditionally it is served on a Vietnamese baguette, which differs from a traditional French baguette because it's made with rice and wheat flour to give it a flaky, airy crust. Condiments of pickled carrots and daikon radish, along with fresh slivers of jalapeno, cucumber and sprigs of cilantro make for a refreshing and light sandwich that you'll crave. Most often this vegan/vegetarian version of the sandwich is made with marinated tofu, but the
Field Roast Smoked Tomato Deli Slices
cooked in a mixture of sesame oil, Chinese five spice and Hoisin sauce lay the groundwork for this sandwich.
Print Recipe
Ingredients
For Pickled Carrots and Radish:
½ cup julienned carrots
½ cup julienned daikon radish, or sliced red radish
½ cup sugar
½ white distilled vinegar
1 cup water
Salt to taste
For Marinated Field Roast Smoked Tomato Deli Slices:
2 Tablespoons vegetable oil
½ a yellow onion sliced into half moons
1 5.5oz pack of Field Roast Smoked Tomato Deli Slices sliced into ¼ inch strips
1 Tablespoons Hoisin Sauce
1 Tablespoons soy sauce
1 1/2 teaspoons toasted sesame oil
1 teaspoon of Sriracha or any other hot sauce (add more for a little kick)
3/4 tsp. Chinese five spice
1/4 tsp garlic powder
1/4 tsp onion powder
1/4 tsp. black pepper
2 Tablespoons of water
Crusty French bread/baguette
Vegan mayonnaise
Sliced English cucumber
Fresh cilantro
Directions
For the Pickled Carrots and Radish:
Combine sugar, vinegar, and water in a sauce pan and bring to a boil to dissolve the sugar. Add the julienned carrots and radish to the boiling mixture along with salt to taste. Remove from the heat and allow to sit for 30 minutes. Pour off the remaining liquid and store in an air tight container in the refrigerator. This can be done a day or two in advance.
For the Marinated Field Roast Smoked Tomato:
In a small bowl, mix the Hoisin Sauce, soy sauce, toasted sesame oil, Sriracha, Chinese five spice, garlic powder, onion powder, and black pepper. Over medium heat, sauté the sliced yellow onion for about 5 minutes until transparent. Add the strips of Field Roast Smoked Tomato slices and cook for an additional 3 minutes. Pour the marinade over the sautéed onions and Field Roast, and cook for 5 minutes stirring often, until browned. If the sauce seems too thick add a few more tablespoons of water.
Time to build the sandwiches. Slice the French bread in half and warm in 400˚F for 5 minutes until warm and toasted. Spread the vegan mayonnaise on the warm, toasted bread. Add the marinated meat mixture and top with the pickled carrots and radish, slices of fresh cucumber, a few sprigs of cilantro and a drizzle of Siracha hot sauce.