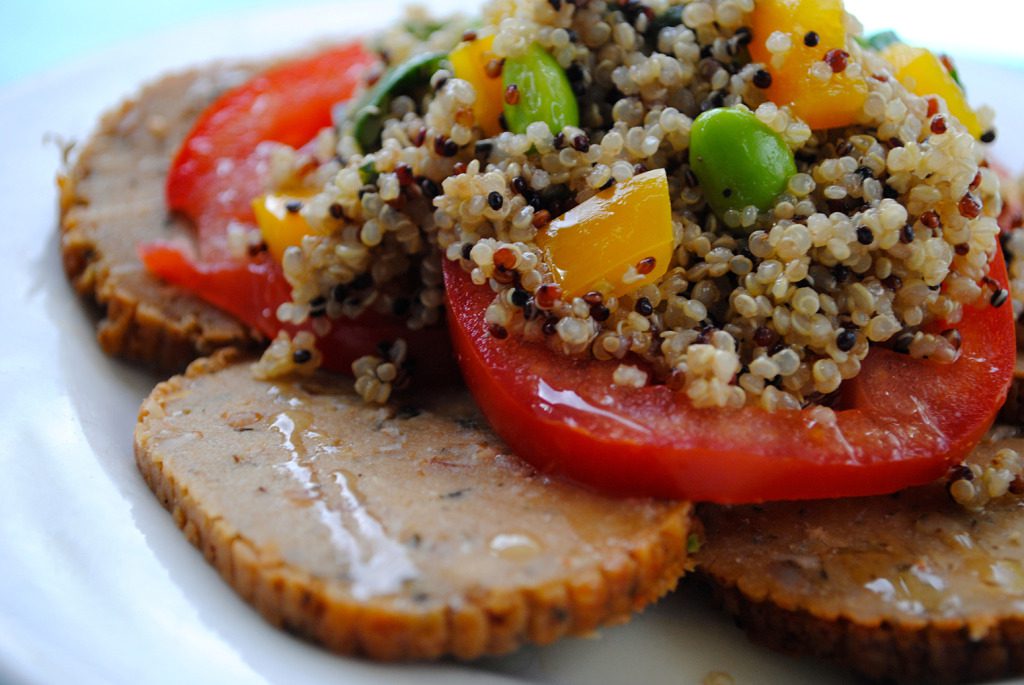 This recipe is hearty and healthy! The flavors in the Celebration Roast are complimented by flavors of the warm quinoa topping. It is very simple to make for family or guests, and beautifully presented on a plate .-Cooks in the Field 
Healthy Homemaker
 Sarah Creighton
Print Recipe
Ingredients
1 1 lb. Field Roast Celebration Roast, thinly sliced
1 Tomato, thinly sliced
1 1/2 cup Quinoa, uncooked
3 cups Water
1 TBS Extra virgin olive
1 TBS Balsamic vinegar
1 Yellow bell pepper, cored, seeded and diced
1/4 cup Onion, diced
1/4 cup Edamame
1/2 cup Fresh basil, chopped
Sea salt, to taste
Directions
Cook quinoa according to package directions.  Meanwhile, spray small saute pan with non-stick spray and heat Celebration Roast over medium heat to warm.
Once quinoa is cooked, toss in olive oil, balsamic vinegar, bell pepper, onion, edamame, basil and salt.  Stir well and let sit for 10 minutes at room temperature.
Layer 4 dinner plates with an even amount of sliced Celebration Roast, then layer with tomatoes.  Top with warm quinoa salad.  Sprinkle with additional sea salt as needed to taste.