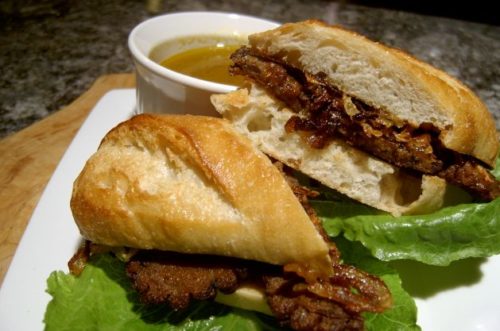 Wild Mushroom French Dip with Crispy Caramelized Onions
A classic French Dip sandwich on a chewy baguette, complete with savory vegan jus and the addition of caramelized onions.
Ingredients
1 Wild Mushroom Quarter Loaf, sliced
1 Sweet yellow onion, thinly sliced
1 quart Vegetable stock
4 cloves Garlic, minced
1 Shallot, smashed
3/4 cup Olive oil
6 sprigs Fresh thyme
4 Baguettes, sliced
Preparations
In a medium pot on medium heat warm 1/4 cup olive oil. Add garlic, shallots and thyme and allow to brown slightly. Add vegetable stock and bay leaves and simmer on low heat.
In a large skillet heat 1/4 cup olive oil on medium heat. Add onions and stir. Cook onions until golden and then remove from pan. Add remaining oil and cook sliced Mushroom Loaf until browned on both sides.
Slice baguettes and toast in oven on broil until golden. Then place Wild Mushroom Slices on bread with caramelized onions on top.
Strain the broth removing garlic, shallots and herbs before serving.