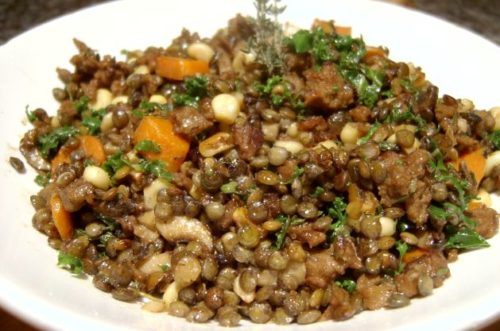 Wild Mushroom Loaf with Green Lentils, Fresh Corn, Kale and Thyme
This Wild Mushroom Quarter Loaf, lentil, corn and kale dish seasoned with thyme makes for a hearty and nutritious dish.
Ingredients
1 Field Roast Wild Mushroom Quarter Loaf, crumbled into small pieces
2 Carrots, sliced
3 White corn, kernels removed from stalk
3 cloves Garlic, minced
6 Crimini mushrooms, diced
4 stalks Kale
1 cup Chardonnay or other white wine
1 cup Green lentils
3-4 cups Water
4 sprigs Fresh thyme
1/2 cup Olive or canola oil
Salt
Preparations
In a large skillet or cast iron pan heat 1/4 cup oil over medium heat. Brown Wild Mushroom Quarter Loaf crumbles and then remove from pan and set aside.
In the same skillet, heat remaining oil and then add carrots, corn and garlic to the pan and stir well. Add lentils and stir well for a couple minutes. Add white wine and thyme, allow the pan to regain heat. Then add browned Wild Mushroom Loaf and mix well. Slowly add water until lentils are cooked.
When lentils are finished add kale. Cook for 2-3 minutes more and remove from heat. Garnish with fresh thyme.