Field Roast Cookbook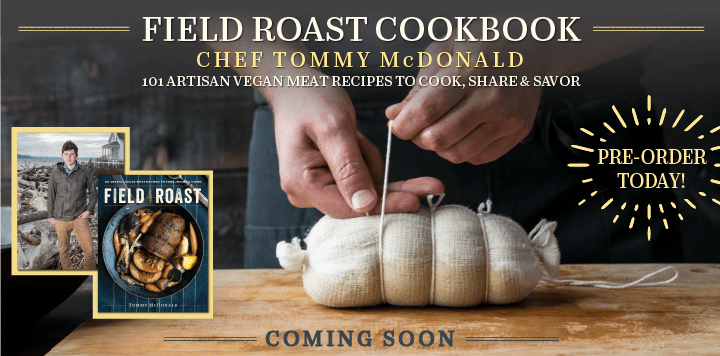 The Field Roast Grain Meat Co. offers our first cookbook, dedicated to delicious, satisfying vegan meat recipes. Founded in 1997 in Seattle, Washington, Field Roast creates artisan vegan meats, made with real ingredients and traditional food making practices. Chef Tommy McDonald shares his culinary passion and teaches fundamental food techniques that will enable you to make your own vegan grain meats or how to best use Field Roast Grain Meats to make delicious vegan meals. These recipes are not complicated, and use easy-to-find ingredients; all you need are grains, fresh veggies, and bold spices—simple ingredients for an authentic, hearty taste.
With recipes for basics such as cutlets, roasts, burgers, and sausages, as well as dishes like Burnt Ends Biscuit Sandwich, Chicken Fried Field Roast and Waffles, Pastrami on Rye, Spiced Sausage and Leek Flatbread, Orange Szechuan Grain Meat and Broccoli, Tuscan Shepherd's Pie, Curry Katsu, and more.
Pre-order at one of the following locations: